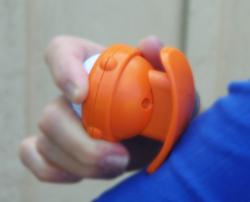 Stress relief and muscle tension relief is great when I utilize this therapy tool on my head, back of my neck, shoulders and - yes - my feet!!
Truth or Consequences, NM (PRWEB) April 02, 2013
Zing Partners LLC announces that La Paloma Hot Springs and Spa, Truth or Consequences, NM is our new retail partner, now offering Zippy RBT massage tools in their Spa gift shop. La Paloma Hot Springs and Spa, 311 Marr Street, Truth or Consequences, NM, 87901, formerly known as Marshall Hot Springs, is a family friendly destination for hot springs soaking, Spa services, and healing arts. The location of the Hot Springs and Spa is a historic site. It was the first car park in T or C. and rooms were constructed as worker housing for workers building the dam at Elephant Butte Lake. After the dam was completed in 1922 the "cabins" were moved to their present location. http://www.lapalomahotspringsandspa.com
The town of Truth or Consequences sits directly atop a hot springs aquifer that produces 2.5 million gallons of crystal clear water per day. The bathhouse at La Paloma is over eighty years old and was built over the only hot mineral drainage canal in the continental U.S. Hot Artesian mineral water flows continuously through five gravel-bottom pools. Water temps range from 98 to 113 degrees with a pH of 7.0. Generous soaking time in private pools is included with an overnight stay. Many of our visitors come to rest, relax, and rejuvenate. Relaxing massages, reflexology, or energetic body work are available at La Paloma to enhance the soothing relaxation provided by soaking in our free flowing mineral tubs. La Paloma is the only natural flow bath house currently open in what was formerly known as Hot Springs, New Mexico.
In addition to the Hot Springs and Spa services, La Paloma has nine quaint rooms and a two bedroom cottage available for your overnight stay. Children are welcome and most rooms are dog-friendly. Continuing renovation and upgrades serve to provide a comfortable homey setting for guests during their stay. The friendly staff at La Paloma invites everyone to visit this historic site even if you choose to stay or soak elsewhere. Their goal is to provide a quiet and serene space to escape from the demands of everyday life. Stop in, take a deep breath, and relax! A number of therapists are available by appointment for massage and healing arts. For more information or reservations: info(at)lapalomahotspringsandspa(dot)com
Zing Partners LLC, based in Phoenix, AZ , created, manufactures, and distributes the Zippy massage line. Based on the excellent massage performance of the golf ball, the durable, easy to use Zippy devices are the choice of athletes, personal users, and professional therapists to relax sore muscles and joints, sooth pressure release points, untie "knots", and bring added circulation to soft tissue. Each durable, "patent pending" Zippy RBT tool permanently houses a golf ball within a precision high tech shell for easy handling. With Zippy you have immediate access to massage for relaxation or therapeutic treatment with a smooth, easy rolling device. Zippy RBT devices come in three models: the Basic, the Rocker Handle, and the T-Handle. The Rocker and T-Handle models include a grip extending handle that doubles as a multi-surface therapy tool for expanded functionality. Zippys are compact, convenient to carry and use, readily accessible in golf bag, purse, pocket, glove box, nightstand, and sports bag. Excellent to use when frozen. Please visit http://www.zippymassage.com for more information.
Zippy Rolling Ball Therapy massage devices are available online at http://www.zippymassage.com and on Amazon. View Video #1 on the Zippy RBT YouTube Channel. http://youtu.be/ajJWhzr1c5M. Visit Zippy RBT – Rolling Ball Therapy on Facebook and "Like." Follow @ZippyRBT on Twitter, https://twitter.com/ZippyRBT.
Zippy Rolling Ball Therapy devices have been submitted for the 2013 Core77 Design Awards.