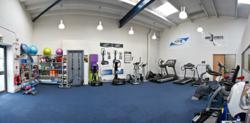 Hire Fitness is set to expand into Europe after announcing soaring sales in 2012
(PRWEB UK) 15 April 2013
Hire Fitness is set to expand into Europe after announcing soaring sales in 2012, illustrating growing public interest in fitness at home.
The founder and Director of Hire Fitness, Paul Healey says: "The amount of people choosing to keep fit at home is showing steady signs of increasing in this economic climate. Gym memberships can be expensive and with today's busy lifestyles, it's not always convenient to take time out to go to the gym, so hiring fitness equipment even if only for short periods is a trend we see on the increase."
Hire Fitness opened its doors in 2001 with a pilot office in Windsor, specialising in the hire of gym quality fitness equipment to homes and businesses; today there are 15 franchised offices across the UK and Ireland and Hire Fitness will soon be seen in Europe, starting first with Germany and France.
2012 was a busy year for Hire Fitness; not only did they buck the economic trend with an overall 20% increase in sales, their Head Office moved into a state-of-the-art fitness showroom on the Slough Trading Estate in Berkshire. The new fitness outlet centre showcases the company's range of high quality fitness equipment including treadmills, x-trainers, exercise bikes, rowing machines and vibration-plates. The centre also shows off the new range of fitness accessories available to buy.
With expansion into Europe, 2013 is set to be another busy year for Hire Fitness with anticipated sales increases of more than 20% after 12 months.