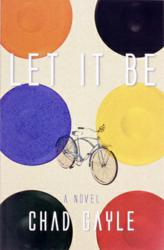 New York, NY (PRWEB) April 03, 2013
Bracket Books announces the upcoming release of Let It Be: A Novel by Chad Gayle.
An extraordinary story inspired by the music of The Beatles, Let It Be: A Novel (Category: Fiction, ISBN: 978-0-9886610-0-4, Trade Paper, 220 pages, $12.95) will be available wherever fine books are sold on May 8, 2013, the anniversary of the release of The Beatles' epic Let It Be album. Let It Be: A Novel will also be available in an eBook edition ($5.99).
About Let It Be: Newly-separated Michelle Jansen longs to create a new life for herself and her children, Joseph and Pam. Making a fresh start isn't easy, however. A fresh start means upheaval—uprooting her family, moving across the state of Texas, settling into a too-small home, entering the workforce—giving up the family's old life is search of something new and better.
But even in the midst of chaos, Michelle experiences an awakening: she rediscovers her love of The Beatles and finds solace in the Let It Be album; she joins, and adapts to, the workplace; she finds promise in a burgeoning relationship with a man who loves her without trying to control her.
Soon, however, Michelle realizes that her overbearing ex-husband is willing to destroy her new life if he can't have her to himself. Given the past, her ex's behavior is no real surprise, but when she is betrayed by her own son, Michelle is hurt in an unexpected, almost unimaginable way.
When passion and rage collide, one man will nearly lose his life, one will lose his freedom, and one family will never be the same. Can this fractured family find healing and forgiveness in the midst of guilt and sorrow? Or will love give them the strength just to let it be?
A powerful story of loss, longing, forgiveness and redemption that unfolds under West Texas skies, Let It Be is a mesmerizing debut novel. Filled with true-to-life characters that will stay with readers long after the final page is turned, Let It Be is a touching tale that probes human frailties and foibles, sacrifice and satisfaction, decisions and desire. Part family saga, part coming-of-age tale, part testament to the power of a mother's love, Let It Be chronicles the breakup of a marriage, the destruction of a family, and the struggle to come together in the aftermath of what remains.
Chad Gayle is a photographer and writer who has written for literary journals, trade publications, and newspapers. Previously, Chad worked for Poetry Magazine in Chicago and taught English at several colleges including Texas A&M University where he earned his Masters Degree. Let It Be is his debut novel. Born in Texas, Chad lives in Brooklyn, New York with his wife and two children. Visit author Chad Gayle online at: http://www.chadgayle.com. Bracket Books (http://www.bracketbooks.com) is an independent press headquartered in New York.
Members of the news media wishing to request additional information about author Chad Gayle or an advance review copy of Let It Be: A Novel are kindly asked to contact Maryglenn McCombs by phone: 615-297-9875, or by email: maryglenn(at)maryglenn(dot)com