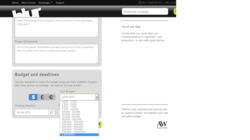 It's just as easy to put a million dollar project through the Exchange as a $10K brief
London, UK and Dallas, US (PRWEB) April 02, 2013
blur Group today makes it possible for companies with large services project requirements to use the Global Services Exchange. The latest update to its platform and unique brief app disrupts the stronghold traditional incumbent services firms and agencies have on larger businesses.
The new range, which sets the parameters for companies to specify the budgets for service providers to pitch within, includes requirements above $200K for the first time and rises up to $1 million+. This is just a year after it was modified to allow for $100K+ briefs.
This update reflects the latest dynamic in blur Group's extraordinary growth. When the Exchange first opened briefs were typically from smaller businesses, for smaller sized projects and delivered by smaller service providers. From 2010 to the end of 2012 the average value of briefs submitted multiplied 10-fold and this timeframe has seen an increasing number of larger businesses using the Exchange for repeat projects, or for managing an entire functional spend through the platform.
Growing sales teams in both Europe and the US, alongside the recent launch of the Premium Account for both expert service providers and customers, demonstrates how blur Group is enabling businesses to run multiple projects with multiple teams and across multiple locations on the Exchange.
Philip Letts, CEO commented, "We built the Exchange to scale and deliver on any size of project. Having proven this with some companies who briefed at one level but then increased the project size outside our current published range, we felt it was time to let the world know that it was just as easy to put a million dollar project through the Exchange as a $10K brief."