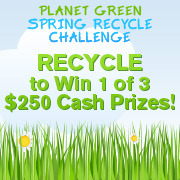 The way we are going to change habits is thinking globally and acting locally. We need to focus on educating our own communities and realize that we can make a difference..." - Arica Rosenthal, Director of Marketing for Planet Green Recycle
Chatsworth, CA (PRWEB) April 09, 2013
To celebrate Earth Day and create awareness about recycling, Planet Green is hosting a Spring Recycle Challenge. The challenge is open to all current and new participants in the program including non-profit organizations, schools, sport teams, individuals and businesses that want to build awareness about their recycling program with Planet Green and possibly win 1 of 3 $250 cash donation prizes.
There is over an estimated 2.5 million tons of e-waste that ends up landfills each year. Many people have old inkjet cartridges, cell phones and small electronics sitting around collecting dust however, but many may not know about recycling resources to responsibly recycle these items.
Why recycle electronics? According to the EPA, "Electronics are complex devices which are made of a wide variety of material constituents. Some of the constituents, such as lead, nickel, cadmium, and mercury, could pose risks to human health or the environment if mismanaged at their end-of-life."
Director of Marketing for Planet Green Recycle, Arica Rosenthal, explains, "The way we are going to change habits is thinking globally and acting locally. We need to focus on educating our own communities and realize that we can make a difference by keeping even just our own e-waste items out of the landfills and recycling them properly."
###
About: Planet Green Recycle is a world leading e-waste recycle fundraising program. Since its inception in 2,000, quality has been and continues to be the focal point of Planet Green's operation. The e-waste recycle fundraising program has helped thousands of charitable organizations, schools, individuals and businesses raise over $40,000,000 and has kept thousands of tons of e-waste out of landfills.