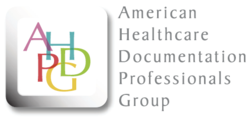 Shrewsbury, MA (PRWEB) April 02, 2013
The U.S. government has recently strengthened HIPAA enforcement under the HITECH Act. Now, stiffer penalties could cost organizations millions as well as critically damage an organizations reputation.
"This online course is the most cost-effective way to ensure everyone receives the training necessary to meet the daily challenges that HIPAA places on healthcare workers," says Peter Reilly, President and CEO. "As a premium provider of outsourced transcription services to hospitals as well as a provider of online training programs for individuals looking to launch themselves into an exciting career in healthcare, AHDPG is uniquely qualified to offer this program free of charge to anyone or any organization looking to remain in compliance with the law."
The comprehensive course covers the recent developments in the Privacy & Security Rules as well as the HITECH Act. It is designed for any professional who may come in contact with, process, or make decisions about how to handle protected health information or PHI. This would include:

Healthcare Providers
Employer Group Health Plans
Health Insurance Companies
Healthcare Clearing Houses
Any Business Associate - which is anyone who works with any of the 4 above.
The online course is available 24x7x365 and is intended to satisfy the mandatory HIPAA and HITECH training component for any individual or organization. It provides an overview of the regulations and teaches learners how to recognize and protect protected health information (PHI) in oral, written and electronic forms. Scenario-based examples and practice activities illustrate and reinforce how compliance applies in various real-life situations. The course and final exam are designed to be completed in about one hour depending on the learner's pace. Following the successful completion of the program each learner will receive an email notifying them of their final exam grade. A printed certificate is available at an additional cost.
To access the course, click here or call us at 1-800-407-1186, extension 800 for more details.
About Us
The American Healthcare Documentation Professionals Group is a nationally recognized medical transcription outsourcing services and online training organization. We currently provide outsourced transcription and editing services to hospitals across the country and we provide training in the areas of medical transcription, medical billing, medical coding, medical scribe, clinical medical assisting and medical administrative assisting to individuals looking to launch an exciting career in healthcare.
Our unique combination of providing outsourcing services to healthcare organizations nationwide and online training programs ensures our employees; our graduates and our clients are best educated and positioned for success.
We were the first employer owned training and workforce development organization approved by the Approval Committee for Certificate Programs (ACCP), a joint committee established by the Association for Healthcare Documentation Integrity (AHDI) and the American Health Information Management Association (AHIMA).