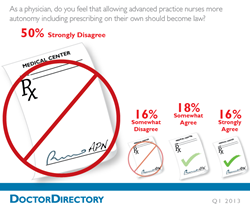 (PRWEB) April 05, 2013
Physicians are strongly opposed to allowing advanced nurses more autonomy including the ability to prescribe, reports DoctorDirectory survey. Over 400 healthcare providers in the United States were eager to share their opinion.
Advanced practice nurses, or nurse practitioners, have taken an increasingly large role as primary care providers; this trend is expected to grow as demand increases as a result of the Affordable Care Act (ACA). DoctorDirectory sought to uncover how physicians were reacting to the nurses' expanding roles.
DoctorDirectory asked, "As a physician, do you feel that allowing advanced practice nurses more autonomy, including prescribing on their own, should become law?"
The negative responses far outweighed the positives. 50% of physicians strongly disagreed and another 16% somewhat disagreed that advanced nurses should be given more autonomy including the privilege to prescribe. Of the physicians opposed, 75% are strongly opposed as compared to those reporting being only somewhat opposed.
On the other hand, only 16% strongly agreed and 18% somewhat agreed that these healthcare professionals should be allowed to prescribe.
It is clear that physicians are strongly opposed to advanced nurses being given the authority to prescribe medications. What is not clear is whether or not this fact will be considered in any future legislation.
For more information about this survey or how DoctorDirectory can impact your brand, please visit ContactDD.com or call 828-255-0012 ext. 105.
About DoctorDirectory
DoctorDirectory specializes in providing healthcare professionals the opportunity to participate in Market Research and other programs that help shape the healthcare industry. DoctorDirectory's exclusive IncreaseRx marketing solution provides pharmaceutical brand teams with access to virtually all U.S. prescribers and generates measurable and verifiable incremental revenues in a gain-share arrangement. Visit ContactDD.com to learn more. Follow DoctorDirectory on Twitter @ContactDD.