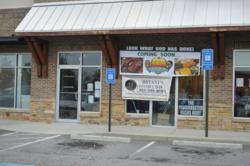 Atlanta, GA (PRWEB) April 02, 2013
This Is It! BBQ & Seafood opened the doors to its second location in the Camp Creek area on Saturday, March 2, 2013. The new To-Go location will build on the success of the first full service restaurant in the Camp Creek area, which opened across from the Camp Creek Marketplace in October 2008. With the full service restaurant at Camp Creek being one of the busiest locations, the opening of another "This Is It!" restaurant in this area with a primary focus on to-go orders will allow customers to pickup or take out orders faster.
The new To-Go restaurant is located in the Camp Creek Marketplace next to Comcast at 3620 Camp Creek Parkway Suite 400, Atlanta, Georgia 30331. This new location has excellent access and parking, and will be open six days a week from 10am to 10pm to service pickup, takeout, and catering orders. The store phone number is (404) 629-0996.
This Is It! BBQ & Seafood has built a passionate, loyal following of brand enthusiast, including more than 5,000 fans on Facebook who spread the word about its warm and inviting atmosphere, and southern hospitality paired with great food at a great price. This "double delicious concept," as CEO and Founder, Shelley "Butch" Anthony describes it, "demonstrates the tremendous amount of support we've received from our loyal customer base over the years."
With the opening of this new location, and the new Corporate Headquarters and Event Center earlier this year, the company recently employed 40 new staff company-wide to fill positions in management, sales and marketing, customer service, and operations. The company also has plans to open another location later this year near Southlake Mall at highway 54 and Mt. Zion Boulevard in Morrow, Georgia.
About This Is It! BBQ and Seafood:
This Is It! BBQ and Seafood specializes in delicious southern home-style cuisine and is famous for its national award-winning barbeque Rib-Tips! For over 30 years This Is It! BBQ & Seafood has been recognized for exceptional hospitality and service paired with the best authentic freshly made barbeque, seafood, sides, desserts, and drinks.
Headquartered in Fayetteville, Georgia, "This Is It!" has several restaurant locations throughout the Metro Atlanta area offering dine-in, to-go, full service catering and delivery service. Its Camp Creek Parkway and Panola Road stores also have elegant full service banquet rooms with media capabilities. The new event center in Fayetteville recently opened in February 2013 offers spacious seating for 175 plus guests and is an ideal venue for corporate meetings and private banquets.
This Is It! BBQ and Seafood restaurants have been featured on CNN, Good Day Atlanta, Better Mornings, Atlanta and Company, The New York Times, The Atlanta Journal Constitution, Creative Loafing, and Atlanta Parent Magazine. The business has grown steadily while giving our Lord and Savior JESUS Christ the credit. The company remains committed to the community and gives back through sponsorships and donations. For menus and more information, please visit http://www.thisisitbbq.com or call (678) 817-7757.