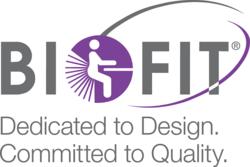 The human body hasn't changed much in the last 20 years, but our understanding of the importance of ergonomics has developed considerably.
Bowling Green, Ohio (PRWEB) April 02, 2013
2013 marks the 20th anniversary of BioFit Engineered Products, a worldwide leader in workplace furnishings located in northwest Ohio. In their two decades, the company has witnessed incredible changes in their industry, and their ability to meet that change has led to equally incredible success and growth.
BioFit officially established itself in 1993, having evolved from stool manufacturer Ajusto, and with that came a renewed commitment to providing a variety of furnishing solutions across a full spectrum of work spaces, from educational and interior design environments to healthcare, laboratory and industrial settings. "Each of these environments has their own specific requirements," says BioFit president Ed Metzger, "but all of them require quality engineering that stands up to rigorous use and delivers full ergonomic support."
As a result, he adds, BioFit has placed durability and ergonomics at the center of their manufacturing and design. "The human body hasn't changed much in the last 20 years," Metzger adds, "but our understanding of the importance of ergonomics has developed considerably. As we come to realize more about the impact posture has on health and productivity, BioFit has developed seating that offers the adjustability and support that enables people to change their position throughout the workday—and that's really the key to ergonomics."
That ability to adapt also makes BioFit adept at providing for new markets as they emerge. Advancements throughout laboratory and high-tech environments rendered once-acceptable levels of clean room capability no longer sufficient, and BioFit worked to develop upholstery that delivers results to the highest industry standard—ISO 3/Class 1. The company had been providing electrostatic discharge (ESD) seating in operating rooms and munitions plants (two places where even a tiny spark could have explosive consequences), and brought that innovation to other work environments as well.
Static can also cause damage to sophisticated microchips, so the need for ESD seating in high-tech environments became equally imperative. BioFit helped develop upholstery that featured a layer of carbon underneath the outer layer. This prevents carbon from flaking off into the delicate environment of the clean room and ensures anti-static properties. BioFit has also been instrumental in the development of clean room testing standards that are used throughout these industries.
Ed Metzger credits the company's twenty years of achievement to the dedicated team of BioFit professionals who deliver quality products and innovative engineering year after year. According to Metzger, "We are very proud to have remained successful in such a competitive field, and we look forward to delivering quality furnishings in the next twenty years."
Located in Bowling Green, Ohio, BioFit Engineered Products is a leading manufacturer and global provider of LEED-compliant office chairs and stools, GREENGUARD-certified mobile tables, carts and specialty products for healthcare, education, laboratory, industrial, technology and office environments. Visit http://www.biofit.com or call 800.597.0246 for more information.