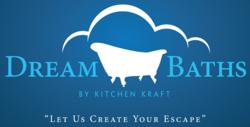 Increased demand for bathroom remodeling compelled us to brand this portion of our business under a separate banner. 'Dream Baths' captures the essence of quality and beauty our kitchen remodeling is reknown for", states Jim Deen, owner and co-founder
Columbus, OH (PRWEB) April 03, 2013
Since 1995 this Columbus, Ohio-based design firm has been creating kitchens and baths under the name of Kitchen Kraft. Located in German Village, this upscale remodeler is on the cutting edge of design- and- build home renovations.
The increasing demand for bathroom makeovers has compelled the company to promote this part of the business under a new division name "Dream Baths Remodeling". Kitchens and bathrooms have traditionally been the rooms homeowners concentrate on when it comes to interior renovations. It is also, according to realtors, what gives homeowners the biggest return on their ivestment when it comes to re-sale.
"Dream Baths Remodeling intends to bring the same quality of service that earned Kitchen Kraft the Consumers' Choice Award for customer service excellence 10 years in a row" pledges Jimmy Deen, company president.
Dream Baths Remodeling employs certified designers who visit the prospective client's home to measure and design the new bathroom. Once design plans are finalized, the production team takes over. Since every element is managed by the firm, homeowners do not have to hire and manage multiple contractors. Dream Baths does it all.
Dream Baths designers use 3-dimensional software to demonstrate the final result before a single hammer is slung. The software allows designer and client to visualize the final outcome and make tweaks before committing to a design or finishes. Designers can change the countertops from marble to granite, or the cabinetry from dark wood to a painted finish with the click of a button.
Choosing a bathroom remodeling company can be the most critical decision made during a remodeling project. That is the time to do some homework and ensure you are working with an experienced professional. One of the best ways to find a contractor is asking friends for referrals, according to Senior Designer Sandy Beyer. She also recommends asking questions about how the firm manages a project and whether the company belongs to industry associations like NARI (National Association of the Remodeling Industry) or NKBA (National Kitchen and Bath Association).
A new website, http://www.dreambathsremodeling.com invites customers to explore an expansive selection of finishes. Offering everything from flooring to plumbing, the company will smooth the process by keeping every detail under one roof. Homeowners can browse the design gallery to explore multiple finishes for countertops, cabinets and fixtures. To get started, they can contact a Dream Baths designer for a personal consultation.
Contact:
Dream Baths Remodeling
Phone: 614-754-7045
Email: info(at)dreambathsremodeling(dot)com
Website: http://www.dreambathsremodeling.com
About The Consumers' Choice Award:
Established in 1987, the Consumers' Choice Award® identifies and promotes businesses that deliver customer service excellence. The Consumers' Choice Award® has retained a leading independent research firm to conduct surveys in U.S. cities; Columbus, Atlanta, Dallas, and Houston. The winners are determined by consumers and not by a panel of judges. The survey covers a broad range of categories of interest to both the public and business communities. Its purpose is to publicly identify those establishments that have been voted by consumers as being their choice for excellence. The Consumers' Choice Award®is a most prestigious tribute to local businesses that serve their communities well. The program is encouraged by all levels of government and by business leaders. Find out more about The Consumers' Choice Award® by visiting http://www.consumerschoiceaward.com/