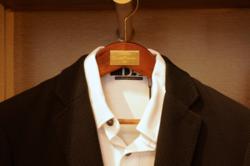 We appreciated CRP's personalized service and the attention to detail they gave to every element of our packaging, from our hangers to the shopping bags.
Houston, TX (PRWEB) April 08, 2013
Hakeem Olajuwon, former NBA player for the Houston Rockets and Basketball Hall of Famer, has recently launched his latest professional venture: an exclusive retail storefront for DR34M, his own brand of luxury goods. Located in the historic 1929 West Mansion in Clear Lake, TX, DR34M's doors officially opened on December 12, 2012 complete with custom packaging produced by Creative Retail Packaging, Inc.
As a long-time resident of Houston, TX, Olajuwon chose to work with CRP out of a desire to support Houston's local business community. "Hakeem is well respected in the city of Houston and wanted to give back by reaching out to local talent," explains DR34M Vice President Ibrahim Arch. "Being able to work hand-in-hand with vendor partners is important to Hakeem, as he is able to give direct input. We appreciated CRP's personalized service and the attention to detail they gave to every element of our packaging, from our hangers to the shopping bags."
To complement the upscale attributes of Olajuwon's clothing line, CRP Account Executive Suzy Pittman ensured that DR34M's packaging consisted of quality, custom-designed packaging components. The full program includes shopping bags, tissue, ribbon, apparel and jewelry boxes, dust bags for leather goods, labels, garment bags, and wooden hangers. DR34M's corporate color scheme of red, white, and black is featured on each item, supplemented by an overarching palette of gray "to communicate contemporary, yet classic luxury," according to Arch.
The shopping bags and boxes feature a hand-drawn illustration of the West Mansion, produced by award-winning Houston designer & illustrator Shel Mitelman. "In working with Hakeem and Ibrahim, we aimed to design and produce packaging that truly felt luxurious. Everything about the DR34M brand experience is cohesive, from the brick and mortar location of the [West] mansion to the product line itself. And thanks to Shel and our CRP Design team, the packaging emulates the elegant, personal, hand-crafted elements of the DR34M brand perfectly," said Pittman.
DR34M is named after owner Hakeem Olajuwon, who wore jersey number 34 for the Houston Rockets and who is affectionately known as "Hakeem the Dream" by his teammates and fans alike. Its flagship storefront is housed in the West Mansion, a Texas Historic Landmark located near NASA's Johnson Space Center in Clear Lake, TX. The store carries a wide array of clothing and accessories designed primarily by Olajuwon, including designer t-shirts and polos, premium denim jeans, leather goods, and the upscale DR34M Sport Collection. The storefront is highly exclusive, and is open by appointment only.
CRP is a Houston-based company with over 30 years of experience in the design and sourcing of custom retail packaging. The company also specializes in strategic brand development, design, and logistics. CRP has offices in Seattle, Houston, and Chicago, and operates three regional warehouses across the United States.