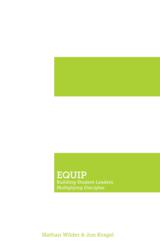 Lynchburg, VA (PRWEB) April 01, 2013
Liberty University Press released "EQUIP," a guide for youth pastors to help build student leaders through biblical, relevant, and practical lessons.
Authors Nathan Wilder and Jon Kragel, experienced youth ministers in the central Florida area, wrote "EQUIP" to help pastors learn how to mentor young adults and lead youth into positions as strong Christian leaders.
Throughout the book, twelve sections address key principles, lessons, and aspects of student leadership, such as: the faithfulness of God, seeking a relationship with God, building loving relationships, and developing leader-attributes. When the curriculum is completed, students will be challenged to hold on to this information and use it as a tool to mentor others. The idea behind this book is simple: disciple students with resources they get to keep so that they can turn around and disciple others.
This book is being used by churches around the U.S. to help develop their student ministries. "Equip" is available now on Amazon and Barnes & Noble.
About the Authors:
Nathan Wilder lives in Orlando, Florida and currently serves FBC Oviedo as the Minister of Students and Sports Outreach. He is married to his wife Amber and has four children: Reese, Macey, Lexie and Daisy. Nathan has earned a Bachelor of Science degree in Nutrition and Fitness as well as a Master of Science degree in Sports Administration from Florida State University. He has also earned a Master of Arts degree in Religion, a Master of Divinity degree from Liberty University and is currently working on his Doctorate from Liberty University. He is a contributing author in Impact: The Student Leadership Devotional, and has been highlighted as a successful case study in the book Simple Student Ministry. He has invested in next generation ministries for 15 years.
Rev. Jon Kragel has been married to his wife Samantha since 2006. Together, they have two sons, Jackson and Carter. Jon recently served as the Minister to High School Students at First Baptist Church Oviedo, located in central Florida. Jon has a Bachelor of Arts from Cedarville University and a Masters of Divinity from Liberty Baptist Theological Seminary. Jon is a contributing author in Impact: The Student Leadership Devotional, and two of his youth ministries have been highlighted as successful case studies in the book Simple Student Ministry.
About Liberty University Press:
Liberty University Press remains at the forefront of helping more Christian authors than ever achieve their personal publishing goals. For more news and information on Liberty University Press, visit http://www.Liberty.edu/LibertyUniversityPress.
About Liberty University:
Liberty University, located in Lynchburg, Va., is the world's largest Christian university. Nearly 100,000 students attend classes on its 6,800-acre residential campus and study in its thriving online education program.