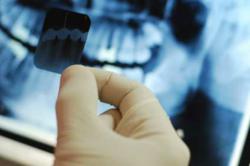 Geistlich was still the clear market leader in the overall U.S. market for dental bone graft substitutes and other biomaterials in 2012.
Vancouver, BC (PRWEB) April 02, 2013
According to a new report by iData Research, the leading global authority in medical device market research, the total U.S. market for dental bone graft substitutes and other biomaterials was valued at well over $200 million in 2012. This market is expected to maintain moderate growth rates as the number of bone graft procedures associated with dental implants continues to grow, and as dental implant manufacturers keep on expanding their regenerative product portfolios to bolster their implant sales.
An increasing majority of dental implant placement procedures continues to use bone grafting techniques. Bone graft substitutes are often used to improve the quality of the patient's bone to allow the implantation of a dental implant. Over 60% of dental implant procedures, such as socket preservation and sinus and ridge augmentation, could benefit from the use of bone grafting. Since dental implant sales are expected to grow at double-digit rates within the next few years, it is expected that this increase in sales will consequently be one of the major driving forces for dental graft substitute sales in the US. However, due to the additional time and expense they require, only half of dental implant procedures carried out in the past year utilized bone grafting technology. "This amount is expected to increase in the future as bone grafting for implant procedures becomes more standardized and as more complicated implant procedures become commonplace," notes iData CEO, Dr. Kamran Zamanian.
Several segments of the U.S. dental bone graft substitute market exhibited growth in 2012, and it is expected that in the next few years the mineralized allograft segment will exhibit the highest growth rate among them. In the last few years, a previous shift towards the usage of dental allograft materials was noticed (mostly due to the ongoing cannibalization of the autografts), and it is expected to be maintained throughout the forecast period, making allografts the fastest growing segment in the overall bone graft substitute market.
Despite terminating their distribution agreement with Osteohealth, Geistlich was still the clear market leader in the overall U.S. market for dental bone graft substitutes and other biomaterials in 2012 due to the sales of their flagship xenograft and dental membrane products. Geistlich continues to lead the overall U.S. market through sales of its Bio-Oss® xenograft and Bio-Gide® dental membrane products. Both products helped to cement Geistlich's leading position in each of the respective markets, giving the company domain over a quarter of the market. However, unlike many of their competitors in the market, Geistlich lacks the added benefit of having a complete restorative solution which would include dental implants and other related products. As a result, the company's leading position will continue to be challenged by contenders such as Zimmer Dental and BioHorizons, which offer much more diverse product portfolios.
iData's comprehensive report series entitled: Market for Dental Bone Graft Substitutes and Other Biomaterials includes the latest data, market analyses and competitor profiles for the U.S., China, India, Asia Pacific (Australia, Japan and South Korea), Latin America (Brazil, Argentina and Mexico), and 15 European countries. These reports provide a comprehensive analysis and market research findings on the dental growth factor, dental membrane, and tissue engineering markets. In addition to the above series, iData has available new global publications that contain data from over 20 countries on the biologics markets including orthopedic biomaterials, spine and stem cell devices.
Get a full report synopsis or table of contents for this report here.
About iData Research
iData Research is an international market research and consulting group focused on providing market intelligence for medical device, dental and pharmaceutical companies. iData covers research in: hearing-devices, cardiovascular, orthopedics and more.