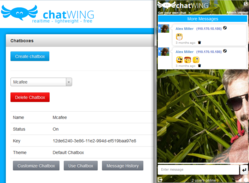 Cambridge, MA (PRWEB) April 20, 2013
With Chatwing's newest chatroom app, health bloggers can now discuss important topics. These topics can range from alternative health methods, healthy meals, nutrition, storing foods, and even a sustainable lifestyle. The newest version of the Chatwing tool has various features that users can benefit from. These features are mainly focused on global connectivity and greater customization rate.
Chatwing's customization process is immense. In the dashboard, the user can access background images and various color palettes. From there, the user can create a chat box design of his choice. A health blogger can go 'all-green' on his theme, especially if he is planning to discuss vegetarian lifestyle choices. Strong colors can also be chosen if the blogger prefers controversial health topics, like quackeries and health insurance.
Chatwing has a reliable social media integration that can take the regular health blogger to many online sectors. Now, users can log in with their Facebook accounts and create groups and pages. Discussions can now run better in social media. Twitter, Google, and Yahoo interactions are also allowed in the Chatwing tool. With this accessibility, the health blogger's website can grow in just days or weeks.
The developers of the company are planning to introduce more features within 2013. This will ensure that the chatbox will always run smoothly without technical glitches, lags, and possible errors. Aside from that, the company will also launch more awareness campaigns.
About Chatwing.com
Chatwing.com specializes in the new field of website chat. Over years, the Chatwing team has introduced live chat widget for hundreds and thousands of blogs. The Chatwing application bridges people from many parts of the world, creating global synergy through the Internet. The shout box can be installed in just seconds, and it can be used for varying purposes such as leisure and Internet marketing. It also allows a user to customize the size, color, and name of the widget. Chatwing is 100% free for everyone.