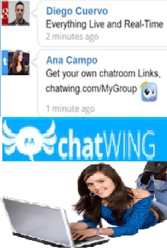 Dallas, TX (PRWEB) April 21, 2013
Through the launch of the latest chat app from Chatwing.com, customer service is now ensured significantly. Chatwing and its developers improved the chat platform so that it will bring global connectivity to a new level. Chatwing's social media integration was also improved so that customers can share their feedbacks and questions in real-time. Chatwing's chat network system is also available, allowing users to connect their chatrooms in one group. The chat network groups can be accessed in the dashboard.
In the new chatbox, users can benefit from greater customization options. Once the chatbox is properly customized, visitors will be entertained well. Chatwing now has new color schemes and styles to tinker with. Users can even upload background images of their choices. With a beautiful and speedy chat box, visitors can gain more information about a company's products and services. This will raise their satisfaction rate and grant more exposure to the company.
Chatwing's developers studied the remarks and feedbacks of many users. Currently, they are now reaching out to many online entrepreneurs and they also emphasized the importance of having a chat lounge in a website or blog. They also communicated with company bloggers who want to create large subscriber groups. The Chatwing Team is also sharing some important customer service tips in Facebook, Twitter, and blogging communities.
Chatwing will also add many features in the coming months or weeks. With these reliable features, global connectivity will become a breeze and people can now expand their social networks within a short time. Also, Chatwing's developers will run maintenance checks to ensure that the chatroom is functioning smoothly without glitches or errors.
About Chatwing.com
Chatwing.com specializes in the new field of website chat. Over years, the Chatwing team has introduced live chat widget for hundreds and thousands of blogs. The Chatwing application bridges people from many parts of the world, creating global synergy through the Internet. The shout box can be installed in just seconds, and it can be used for varying purposes such as leisure and Internet marketing. It also allows a user to customize the size, color, and name of the widget. Chatwing is 100% free for everyone.