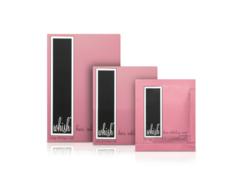 Refresh, soften, and moisturize on the go.
Scottsdale, AZ (PRWEB) April 01, 2013
THINK: Whish Body Products' popular hair inhibiting gel packaged in a convenient on-the-go swipe.
WHAT IT IS: Thanks to Whish Body Products, your skin is in for a treat. Introducing Hair Inhibiting Swipes:individually packaged towelettes with a quickly absorbent moisturizer that is exceptionally versatile to boot. Not only can it be used to soothe the skin after a day in the sun, or replenish it after shaving, waxing or laser, it also slows hair growth (clinical studies show a reduction of hair density by 26% after 28 days of daily use!) . All this and it's made with natural and organic ingredients. Never sticky or tacky, the formula glides on like a smooth gel and quickly evaporates as you rub it in, leaving behind a silky, completely dry finish.
Packaged in 8 and 20 count packs, these pomegranate infused swipes are the perfect travel companion, post yoga or swimming moisturizer, and everyday skin treat.
Use one swipe a day for a month to soften the hair follicle allowing for a better smoother shave and less hair. Or use it pre-waxing and laser to weaken the hair follicle for better results and less pain and post wax and laser to calm irritation and redness and to make the results last longer.
Pomegranate Hair Inhibiting Swipes include the following soothing and moisturizing ingredients: Organic aloe, organic shea butter, and panthenol to moisturize. Hyaluronic acid and retinol palmitate to renew. Chapparel extract to inhibit hair growth.
SIZE: 8 count, 20 count
HOT TIP: Use everyday to minimize the fuzz and moisturize your delicate skin.
WHAT THEY COST: $8.00/$20.00 each
LAUNCH DATE: April 2013
AVAILABLE at http://www.whishbody.com
###