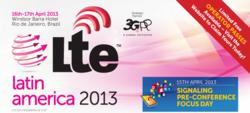 Sterling, Virginia (PRWEB) April 02, 2013
Reverb Networks, a leading developer of intelligent Self-Optimizing Network solutions designed to provide mobile network operators with improved operational and spectral efficiencies, announced today that the company is participating at the 2013 LTE Latin America Conference in Rio de Janeiro, 16th – 17th April 2013.
At the event, Dr. Arif Ansari, CTO, will be participating in a Panel Discussion titled, "Clarifying the Necessity of Self Organizing Networks: Where are we now?" with topics including:

How will SON manage new capabilities
Comparing the centralized, distributed hybrid SON models
How flexible is SON for giving operators control over automated functions?
About Reverb Networks
Reverb Networks is a pioneering provider of automated, continuous and antenna-based Self-Optimizing Networks (SON) solutions. Reverb's InteliSON enhances networks of Mobile Network Operators through frequent and proactive self-optimization that improves network coverage and capacity and increases spectral efficiencies. In partnership with Reverb Networks, operators can maximize the performance of their wireless network automatically and efficiently, resulting in lower OpEx and CapEx. Reverb's SON applications include for Load Balancing, Interference Reduction and Self-Healing for both UMTS and LTE network technologies.
Headquartered in the United States, Reverb Networks has presence in the Americas, Europe, Middle East, and Asia, and offers support across the globe.
For more information, visit http://www.reverbnetworks.com.