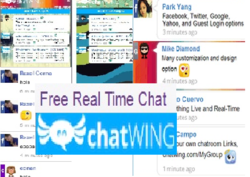 San Francisco, CA (PRWEB) April 24, 2013
Discussions in the sporting community are becoming more frequent in websites everyday. This fact is based on the comments of sporting professionals and website owners in the online arena. To help website owners in the sporting community, Chatwing Development Team created a chatroom tool that can be used in discussing sporting topics properly. The embeddable chatroom can also improve the visibility of a sporting website or blog.
Since topics in sports websites are progressing fast, a reliable stream of communication is highly needed. Chatwing solves this dilemma by introducing a chat network option. Through this feature, users can link their chatrooms in just one niche. The niches or networks can be selected in the Chatwing dashboard and the speed is not affected, no matter how many chatrooms are connected. Combined with Chatwing app's other features, the chat network can maintain the stability of any website.
Chatwing also released its second theme: live user detection. Themes are almost different than customization options because they offer complete overhauls in the chat box. In this newest theme, the chatbox has an extended sidebar that displays the current active visitors. Now, the chatroom admin will have better navigation and he can also see the messages typed by those visitors. He can also send social media invitations.
Up to date, Chatwing's developers are sharing tips in sporting communities. These tips are related to the proper usage of the Chatwing tool and how it can be used for building subscriber groups within days. Aside from that, the Chatwing Team is also planning to expand in other online communities due to high user demand.
About Chatwing.com
Chatwing.com specializes in the new field of website chat. Over years, the Chatwing team has introduced live chat widget for hundreds and thousands of blogs. The Chatwing application bridges people from many parts of the world, creating global synergy through the Internet. The shout box can be installed in just seconds, and it can be used for varying purposes such as leisure and Internet marketing. It also allows a user to customize the size, color, and name of the widget. Chatwing is 100% free for everyone.