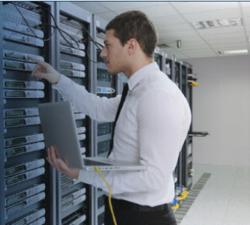 Our customers are happy about the SMS service we provide as the cost to them is minimal.
(PRWEB) April 03, 2013
Leading business SMS service provider, MessageMedia, is proud to share the success story of its customer SMS InfoComm, a computer and consumer electronic repair and refurbish service business.
MessageMedia CEO, Grant Rule said that in the past, SMS InfoComm used email to update end customers on the status of their equipment service and to provide the tracking number of the job. "Sending out email for applications such as this is clearly not an optimal solution for many reasons, especially for those customers that don't have a second computer and are therefore unable to receive an email!"
SMS InfoComm Deputy General Manager Phil Huang said that for them, email did not work very well. "We did not know if the email was effective as some might be misidentified as junk emails and we could never be sure if our customer actually received and read the message."
The company now uses SMS to provide real-time service status to end customers. Phil said "We send out thousands of messages per month and this automated process has helped us with productivity. We no longer have representatives tracking customers down via phone or email, which means those reps now have the time to focus on other tasks that help us become more lean.
Our customers are happy about the SMS service we provide as the cost to them is minimal. They conveniently have the tracking number information in their pocket and peace of mind knowing their equipment is on the way with proof."
SMS InfoComm is using the MessageMedia Email2SMS service, which allows companies to send messages from existing email programs e.g. Outlook, and replies come straight back to the email inbox.
Grant said, "One key benefit of the MessageMedia solution for SMS InfoComm is that there is almost no additional effort required from its IT team as MessageMedia is easy to set up and use. There is no software required and it's perfect for organizations whose staff don't have web access because all you need is email account to get started."
Phil concluded, "We like the MessageMedia solution as we've found that it has increased customer satisfaction and it also reduces the avoidable 'service status inquiry' inbound call to the contact center. MessageMedia's service and support is also outstanding, I highly recommend the solution to any other company who is looking for an affordable and effective solution to give customers real-time order status updates. You can easily implement the solution within a week."
About MessageMedia:
MessageMedia is a global leader in business SMS services, and an award-winning customer focused organisation. The company provides a 100% uptime guarantee for the 10,000+ customers that depend on MessageMedia's service reliability and quality support. MessageMedia customers improve business results by leveraging SMS solutions to communicate simply and economically.
Established in 2000, the company has offices in USA, UK, Australian and New Zealand. For more information, please visit http://www.message-media.com