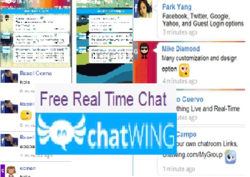 San Diego, CA (PRWEB) April 25, 2013
The roleplaying niche in forums currently has over thousands of subscribed users. Based on gaming professionals, roleplaying niche has been around for many years already, spanning one forum after another. To help modern roleplaying forums gather subscribers, Chatwing Development Team created a chatroom tool that can be embedded to any forum or website. The tool can also be used to enhance the online presence of any website.
The installation process of the Chatwing chatbox can be finished in mere seconds. In registration, the user just needs to input his email address and desires password. After that, he can now proceed to his account dashboard and create a chatbox. There are many customization options that the user can play with. He can set color schemes, font styles, and other known connectivity parameters.
Chatwing recently introduced its latest feature: chat network. This is a simple feature that can be accessed in the account dashboard. Basically, this allows the user to connect his chatroom to other chatrooms within a selected network. Choosing a network can be accomplished in just few clicks. Roleplay forum admins can rely on this feature to find more participants in their roleplaying adventures. Despite the connection of many chatrooms, the speed of the Chatwing platform will never be affected.
Chatwing.com and its developers are looking forward in expanding to other online communities and portals. In this way, more users will become aware regarding the chatbox and they can have an improved website chat experience. Chatwing also has a Facebook page wherein the developers are sharing information about chat app updates and changes.
About Chatwing.com
Chatwing.com specializes in the new field of website chat. Over years, the Chatwing team has introduced live chat widget for hundreds and thousands of blogs. The Chatwing application bridges people from many parts of the world, creating global synergy through the Internet. The shout box can be installed in just seconds, and it can be used for varying purposes such as leisure and Internet marketing. It also allows a user to customize the size, color, and name of the widget. Chatwing is 100% free for everyone.