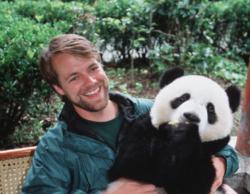 The panda volunteer work was a great way to learn more about the panda. I learned many things about personalities and demeanor of the panda's. -Debra
(PRWEB) April 02, 2013
WindhorseTour, a local travel agency which specializes in tailor making tours to China for over 10 years, released the new summer price for their panda tours on the website. Located in Chengdu, the capital city of Sichuan province, they are experts in organizing Panda volunteering tours in Chengdu Panda Base or Bifengxia for foreign travelers. As one of the most adorable and rarest animals in the world, giant pandas now can only be found in a few mountain ranges of the Sichuan province. Therefore, these tours offer a truly unique experience of getting up close to pandas.
There are a selection of volunteering programs for volunteers to choose. They are divided into several small groups and each has their own panda keepers or experts to give instruction before volunteering. These experts are also good teachers for travelers to learn more about the pandas.
During volunteering time, activities include cleaning the pandas' garden, preparing food, feeding pandas, collecting behavioral data and more. Volunteers can spend hours watching pandas eating bamboos, playing and sleeping.
Debra, a client from WindhorseTour said, "The panda volunteer work was a great way to learn more about the panda. I learned many things about personalities and demeanor of the pandas."
Attending Panda volunteer work is very easy. Generally, foreign travelers need their passports and some documents from their doctors to state they are in good health before they apply for the volunteer work. Additionally, children under the age of 10 are generally not allowed to volunteer. As the first agency in Chengdu to organize Panda volunteering tours to foreign travelers, WindhorseTours can arrange everything for their clients in advance.
Most Panda volunteer works last half a day, for the rest of the time, visitors can take a half day cooking class, or visit some highlight spots including Sichuan Museum, Wuhou Temple or Wensu Monastery in Chengdu.
WindhorseTour specializes in creating tailor made experiences based on every client's unique needs and operating groups to all provinces in China. Please visit WindhorseTour.com for more information or contact them.
Email address: news(at)windhorsetour(dot)com
TEL: (+86)-288-559-3923, (+86)-288-625-4701
Fax: (+86)-288-625-4710