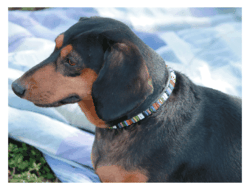 Boca Raton, FL (PRWEB) April 01, 2013
This year, Just Fur Fun will be attending the 51st Annual Delray Affair taking place on Friday, April 5th through Sunday, April 7th. Just Fur Fun will have a booth at the Delray Affair all three days selling their hand beaded leather pet collars, leashes, browbands, as well as matching belts and jewelry for pet owners. "If you're in the neighborhood, come check us out," said Mona Straub, Owner of Just Fur Fun. "Visit our booth and get a first-hand look at how to dressy up your pets as well as yourself! We will have inventory available for small dogs as well as for larger breeds and their owners."
A weekend packed with live entertainment, food vendors, and more than 700 exhibits, the Delray Affair is a true affair to remember. With over 300,000 people expected to attend this free event, Just Fur Fun will be displaying and selling handmade collars and leashes for small and big dogs, along with matching belts and jewelry for humans. Just Fur Fun is proud to be a part of this event, and looks forward to interacting with pet lovers in the community. Attendees will be able to browse and purchase blinged out accessories for pets and themselves. The staff from Just Fur Fun will be on hand to meet new customers, and provide them with special coupon codes that can save them money on their next online order. Just Fur Fun will also be holding a drawing to give away a free collar to attendees who subscribe to their mailing list and like them on Facebook.
The 51st Annual Delray Affair has become the largest award winning arts & craft show in the Southeastern United States. "Displaying our products at the Delray Affair is a great avenue to generate interest from so many locals, as well as visitors. This is a great city and a great event, and we are very happy to have the opportunity to participate," says Just Fur Fun Owner and Lead Designer, Mona Straub.
About Just Fur Fun:
Just Fur Fun, located in Boca Raton, FL, creates exquisite handmade pet collars and leashes for dogs and matching belts and jewelry for pet owners. Mona Straub is the founder, designer and brains behind Just Fur Fun®. Always looking for ways to express herself where just jewelry alone wouldn't do, she came up with the idea to dress-up her dogs, cats and horses in something different, yet elegant, that would be an expression of her…and Just Fur Fun was born! Just Fur Fun actively sponsors a number of South Florida non-profit animal organizations including the Humane Society of Broward County and the Dachshund Rescue of South Florida.