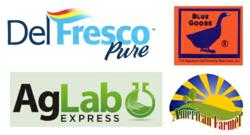 Jupiter, FL (PRWEB) April 01, 2013
DMG Productions announced today that an upcoming episode of American Farmer, centered on innovations in the agriculture industry, will air on Tuesday, April 2, 2013, at 8:30 a.m. EST on RFD-TV.
This episode provides viewers with a behind-the-scenes look at the agriculture industry, featuring three different companies whose innovative farming techniques are impacting the industry.
American Farmer will feature Blue Mountain Growers, a farming co-op since 1927 that supports a network of fruit growers─large and small─producing the highest quality cherries, apples, prunes and plums. This particular segment will focus on agricultural cooperatives. Also known as "farming co-ops," these organizations pool their resources to create growth and stability.
In addition, American Farmer will showcase DelFresco Produce Ltd., a family-owned greenhouse operation based in Kingsville, Ontario. Viewers will learn about the Mastronardi family and their 35 years of history, providing good, quality products to consumers with the ethic that if it isn't good enough for their own family to ear, it isn't good enough to sell.
In this episode, American Farmer travels to Sioux Falls, South Dakota where Ag Lab Express operates a full-scale soil-analysis laboratory. This segment will explore the importance of soil measurement, and maintaining proper soil nutrition.
"The second season of American Farmer has been well received by all," said Charlie Cowan, producer for the series. "Each week, viewers are educated on the latest and greatest to hit the Ag industry."
About American Farmer:
American Farmer is a breakthrough program on a mission to showcase the latest advancements in agriculture and farming. From seed to harvest, livestock and more, our producers have traveled the country covering the people, places and issues impacting all areas of farm country.
American Farmer airs Tuesdays at 8:30am EST on RFD-TV as well as Saturdays at 1:30pm and Midnight EST on RURAL-TV.
For more information visit: http://www.americanfarmertv.com or call (866) 496-4065.
Media Contact:
Charlie Cowan, Producer
(866) 496-4065 x 875
charlie(at)americanfarmertv(dot)com