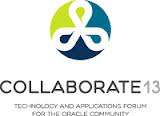 The COLLABORATE 13-OAUG Forum offers more than 500 user-driven educational sessions.
Atlanta, GA (PRWEB) April 03, 2013
On March 25, 2013, co-hosts Stone Payton and Lee Kantor of BusinessRadioX®'s High Velocity Radio welcomed to the studio Katie Pereira and Marianna Miller with OAUG.
Pereira and Miller are part of the team managing the upcoming COLLABORATE 13. The Oracle Applications Users Group (OAUG), the world's largest user knowledgebase for Oracle Applications users, co-hosts the COLLABORATE 13: Technology and Applications Forum for the Oracle Community conference in partnership with the Independent Oracle Users Group (IOUG) and Quest International Users Group (Quest), April 7-11, 2013, at the Colorado Convention Center in Denver, Colo.
According to Periera, the COLLABORATE 13 keynote presenters are Oracle President Mark Hurd; Aron Ralston, extreme adventurer and subject of the film 127 Hours; Sean D. Tucker, aviator with Team Oracle; and Martin Wildberger, vice president of IBM's worldwide information development within IBM Software Group. Katherine Ridenhour, a retired battalion chief of Aurora Fire Department in Colorado, will deliver the keynote presentation during the Women in Technology luncheon.
Illustrating its theme, "Elevate Your Potential," the COLLABORATE 13 – OAUG Forum offers more than 500 user-driven educational sessions focused on practical training to help Oracle Applications customers derive the most value from their Oracle product investments. The variety of content within 23 educational tracks presents attendees with multiple opportunities to find the most relevant information on topics including application strategy, big data, business intelligence/data warehousing/enterprise performance management (EPM), cloud computing, customer relationship management (CRM), human capital management (HCM), middleware, supply chain and more.
Explained Miller, Oracle community members are exposed to various networking opportunities to further their professional connections and exchange ideas with more than 5,000 knowledgeable peers and recognized subject matter experts. Networking activities include the popular Women in Technology Panel Discussion and luncheon, more than 50 OAUG Special Interest Group (SIG) and Geographic (Geo) meetings held throughout the conference and a selection of social events.
Representatives from Oracle are scheduled to present a number of education and Oracle Roadmap sessions, participate in SIG meetings, provide demos in the exhibit hall, host the Oracle Meet the Expert meetings at the Hyatt and meet one-on-one with attendees throughout the week.
Some notable sponsors of COLLABORATE 13 include EiS, Excel4apps, IBM, Noetix, Eprentise, and ITConvergence.
To learn more about COLLABORATE 13, listen to this interview in its entirety at High Velocity Radio.
About High Velocity Radio:
http://highvelocityradio.businessradiox.com
High Velocity Radio celebrates Top Performers Producing Better Results In Less Time. The show brings in business leaders and experts to talk about their methods and to help listeners develop the Competence, Confidence, and Commitment to Succeed With Speed.
About BusinessRadioX®:
BusinessRadioX® provides a turnkey solution for business owners who want to leverage the power of internet radio to meet their best prospects, establish credibility for their organization and heighten the placement of their brand in search engines rankings. With a professional venue and a proven formula, BusinessRadioX® helps hosts podcast their shows and create a regular stream of dynamic content to share with their prospects and feed the search engines every week. Programs are recorded and streamed live to the internet from our studios in the greater Atlanta area. For more information or to hear a live show, visit: http://www.businessradiox.com.