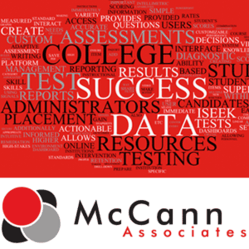 (PRWEB) April 01, 2013
Scott Kramer and Matt Daneker, executives from McCann Associates—a division of Vantage Labs—will be leading a presentation on the transformative power of the MY Access! writing application at the Virginia Community College System (VCCS) New Horizons Conference on April 3, 2013. VCCS New Horizons is designed to showcase the latest trends in teaching and classroom technologies.
Kramer and Daneker will focus on the challenges faced by students making the transition from writing at the high school level to writing for more exacting college standards. As VP of Strategic Accounts for McCann, Kramer has worked with higher education institutions across the country, and he knows all too well the impact this transition has on both students and colleges.
"Students are faced with many challenges when adapting to the demands of college-level writing. Institutions here in Virginia and across the nation want to deliver remediation assistance which closes this gap, but at a scale and scope which is sustainable," said Kramer. "We are proud to deliver that solution for students and faculty with MY Access! , our award winning writing enhancement application. It seamlessly delivers on demand access to instant feedback on student writing to help prepare them for the challenging writing standards they'll face in college and, ultimately, within their careers."
MY Access! is a fully Web-based program that presents writing instruction and assessment as an interactive workflow, applying superior artificial-intelligence-driven automated essay scoring and linguistic technologies to the writing process. Attendees of the VCCS New Horizons conference will learn how consistent use of these tools in the classroom can be used to positively impact student learning and assessment across the curriculum at both remedial and higher levels of learning.
To learn more about the McCann Associates presentation, please visit: http://nhweb.vccs.edu/nh13/sessions/what-makes-a-great-writer/
About McCann Associates
Since 1959, McCann Associates has been an innovative leader in the development and distribution of assessment, certification, business intelligence and personal development solutions. Leveraging advanced technology, McCann provides cost-effective tools via Software as a Service (SaaS) for higher education, government and public sectors, public safety, corporate HR and employee learning. Through its deployment of high-stakes, formative and diagnostic assessments, McCann Associates creates, delivers, scores and reports on hundreds of thousands of assessments each year. McCann is the trusted name in implementing placement exams for the state of Florida, via the Postsecondary Education Readiness Test or P.E.R.T., and the Virginia Community College System, via the Virginia Placement Test.