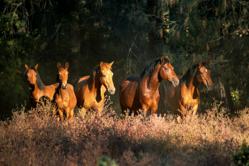 These animals are living symbols of the American West...
Shingletown, California (PRWEB) April 03, 2013
This spring, the Wild Horse Sanctuary in Shingletown, California (http://www.wildhorsesanctuary.org) commemorates its 35th anniversary rescuing wild horses and burros. Sanctuary visitors help support continued protection through their donations and by participating on two and three-day trail rides.
While rounding up wild horses for the U.S. Forest Service in Modoc County, Calif. in 1978, wrangler Dianne Nelson made a life-changing decision.
She and her husband decided to rescue the band of 80 wild horses they'd just rounded up and that they knew were destined to be destroyed. Their selfless act led to the founding of the Wild Horse Sanctuary in Shingletown, east of Redding, Calif. For the past 35 years, the Wild Horse Sanctuary has protected hundreds of wild horses and burros from destruction.
"What she did was nothing short of heroic," said Fred Sater, who serves as the Sanctuary's spokesperson. "These animals are the living symbols of the American West. They embody its wildness and freedom. Where else on Earth can one see them running free, their manes blowing in the wind? When I do, it fills my heart with hope that these icons of the American frontier will never disappear."
Some 300 wild horses and burros now live on the Wild Horse Sanctuary's approximately 5,000-acres, supported by donations and visitors. Overnight guests can view the wild horses and burros on two and three-day rides. The trail ride season begins Sat., May 4 and continues to the Columbus Day weekend, Oct. 12-14, 2013.
Dianne Nelson and Sanctuary volunteers lead the rides that begin at a corral with riders getting acquainted with their horses and receiving riding and safety instructions. Riders then follow trails created by the wild horses and burros through a landscape of native grasses, manzanita, oak, pine trees, and lava rock that is inhabited by diverse wildlife. Wild horses and burros can be seen living free within a woodland setting that is backed by the volcanic slopes of Lassen Peak seen in the distance.
Early in the ride, an open area dotted by lava rock and surrounded by native oaks provides a stopping point to watch the wild equines as they graze. As riders approach, their arrival is often trumpeted by a lone burro who serves as sentinel. At times, up to 100 wild horses may be seen dining with their respective family bands.
During spring, native grasses are abundant, making a ride within the Sanctuary an exciting search to find them. "It's not unusual for a rider to shout 'there's one' in excitement as we tour the refuge. They quickly fall under the spell of their adventure," said Nelson.
After a couple of hours, riders stop to picnic beneath the shade of a stand of oak trees. Then, it's back on the trail to continue the search for more wild horses. "By day's end, the trail riders are ready for the climb to 'Wild Horse Camp,' where frontier-style cabins sleep two to four guests," said Sater. There, a cook house, restrooms with flush toilets, and nearby hot showers are waiting.
"But first, they learn to take care of the saddle horses, feed them alfalfa and watch them take a well-deserved roll in the corral," Sater said, "Then it's time for the riders to settle into their cabins or relax on the porch of the cookhouse as they enjoy a cold drink and recount what they'd seen along the trail. More storytelling follows a barbecue dinner, around a campfire."
On the second day, guests awake to the aroma of fresh-brewed coffee and a crackling campfire. A country-styled breakfast provides the fuel necessary for another three to five hours in the saddle searching for more wild horses.
Cost for the two-day trip is $435 per person; a three-day trip is $535 per person. It all benefits the Wild Horse Sanctuary, which is a 501(c)(3) tax-exempt non-profit organization dedicated to the protection and preservation of America's wild horses and burros.
More is found at http://www.WildHorseSanctuary.org, by calling (530) 474-5770 and by visiting http://www.shastacascade.org and http://www.visitredding.com.