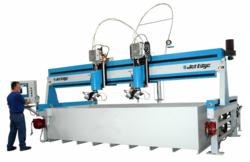 Jet Edge is very proud to be represented by Machinery Forum.
Saint Michael, MN (PRWEB) April 01, 2013
Jet Edge, Inc., a leading manufacturer of ultra-high pressure waterjets for precision cutting, coating removal and surface preparation, is pleased to announce that Machinery Forum NSW Pty. Ltd. has been selected as its newest waterjet systems dealer covering the Australian market.
Machinery Forum carries Jet Edge's full line of waterjet cutting and surface preparation equipment, including waterjet cutting machines, waterjet intensifier pumps and portable waterjetting systems. The company also carries Jet Edge waterjet parts and is authorized to service Jet Edge waterjet equipment.
Based in Brisbane, Melbourne and Sydney with plans for other states, Machinery Forum has been a supplier of leading edge manufacturing technology to the Australian manufacturing industry since 1956, and has extensive experience in diverse fields of manufacturing including metal cutting, foundry equipment, electronic PCB, cable manufacturing, wire processing, concrete reinforcing, steel processing, solar panel manufacturing, and many others.
"Jet Edge is very proud to be represented by Machinery Forum," said Jude Lague, Jet Edge president. "Their highly skilled and experienced sales and technical staff will be a tremendous asset to our Australian customers."
For more information about Machinery Forum, visit http://www.machineryforum.com.au, e-mail machinery(at)mafosyd(dot)com.au or call (02) 9638 9600. For more information about Jet Edge waterjets, visit http://www.jetedge.com, call +1 763-497-8726 or e-mail sales(at)jetedge(dot)com.
For more information about international distributor opportunities with Jet Edge, contact Dave Anderson, International Sales Manager, at +1 763 497 8718 or DaveA(at)jetedge(dot)com.