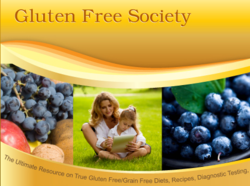 Since these tests are privately purchased, we don't share any results – even with insurance companies.
Malibu, California (PRWEB) April 14, 2013
The Gluten Free Society is selling an at-home test kit that has been designed to promote privacy and accuracy. The test can confirm or rule out Gluten Sensitivity and / or Celiac Disease. The test sells for $385 dollars (family discounts are available) and it provides real insight into a person's own DNA. The test can be purchased by clicking here: https://peterosborne.infusionsoft.com/app/manageCart/showManageOrder
"The test doesn't require blood draws. Support is also provided in the event that someone tests positive for Gluten Sensitivity or Celiac Disease," said Dr. Peter Osborne of The Gluten Free Society. "A video download explains what someone should know and what the next steps are if the results are positive."
The test provides results via email and insurance companies never have to know a person's status. "Since this test is privately purchased, we don't share any results – even with insurance companies," continued Dr. Osborne. "The test is meant to provide insight to a person's DNA so he or she can make a lifestyle plan and/or adjustment if needed."
About: The Gluten Free Society lends its support to research endeavors revolving around grains, gluten, lectins, and other compounds within grain that may harm human health. The organization provides an ongoing analysis and commentary of research performed in the field of food sensitivity/intolerance. Members of the media can contact Helene Vece of JumpStart Ink and Media Manager for the Gluten Free Society to request an interview with Dr. Peter Osborne.