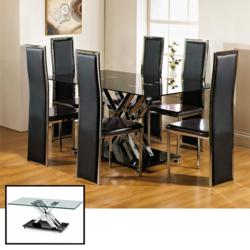 FurnitureInFashion, leading furniture retailer in the UK, is offering Super Deals on furniture at half prices.
(PRWEB UK) 6 April 2013
FurnitureInFashion, leading furniture retailer in the UK, is offering Super Deals on furniture at half prices. Customers can now buy cheap furniture online by availing this on selected items. The limited furniture items are of the highest quality and are available at half prices. Homeowners looking to buy cheap furniture online can avail this amazing opportunity offered by the company.
Some of the retailer's Super Deals bargains include glass tables, shoe storage cabinets, bar table set, hat coat stands, computer desks, room dividers and coffee tables at extremely reasonable prices. This offer added advantage of free home delivery service offered by FurnitureInFashion. The residents of the UK can avail this offer of the company and make best use of it.
"Customers often ask how FurnitureInFashion manages to offer such cheap prices on such high quality furniture," said the Managing Director of FurnitureInFashion. "The company has tremendous experience in manufacturing quality furniture through highly efficient German manufacturing processes. The cost savings are transferred to customers in the form of cheap furniture."
FurnitureInFashion is offering tremendous other Super Deals for customers who are looking to buy cheap furniture online. The company is offering excellent deals on dining table and chairs.
Excelsior dining table with six chairs plus coffee table are available for £549.95. Customers can also buy amazing Juliette dining table with six chairs and a coffee table for £499.95. Napoli shoe cabinet, one of the best selling cabinets of FurnitureInFashion, is now available for only £109.95.
Among the cheap furniture Super Deals, FurnitureInFashion is offering Cubic Walnut TV stand for £109.95. In the coffee table range, FurnitureInFashion is offering stylish Lisa black glass coffee table for £59.95 and Onyx coffee table for only £42.95. In the home entertainment category, the company is offering Baltimore TV stand for £149.95 and modern white and black low plasma TV stand with two shelves for £69.95. The company is offering extremely comfortable seating by offering remarkable deals on Jumbo faux leather chair and Paris sofa bed at a price of £229.95. In addition, there are coat stands and other dining tables and chairs available at extremely affordable prices in Super Deals.
Customers can view the description and other details related to the products on the website. The MD of FurnitureInFashion said, "The company has developed a separate section for Super Deals on furniture. Customers can conveniently browse through different products and deals in this section. Images have been added to provide clear idea of the product in order to help customers to decide. For residents in the UK, FurnitureInFashion is offering free home delivery service. Customers can save a lot of money through these Super Deals."
The MD further added, "FurnitureInFashion is offering these furniture deals for limited time. Customers can make the most of these bargains by placing the order online right now. FurnitureInFashion is offering unprecedented value to its customers through these Deals. In case of any ambiguity, customers can contact the customer service of FurnitureInFashion. The customer care team of the company is trained and vigilant to guide the customers in all areas."
To have a look at cheap furniture online and to place a pre-stock order, please visit the company website today at http://www.furnitureinfashion.net. The range of Super Deals at the website is huge, delivery is fast, savings are massive and the quality is guaranteed.
About FurnitureInFashion
FurnitureInFashion is a UK based online retail business. It supplies furniture items from its German based warehouse and has a showroom in Bolton, UK. The company provides everything from umbrella stand, wall art and room dividers to bedroom, bar stools and computer tables. FurnitureInFashion offers excellent free delivery within UK and has a fantastic customer service as well. For further information and details about the sale, please visit http://www.furnitureinfashion.net