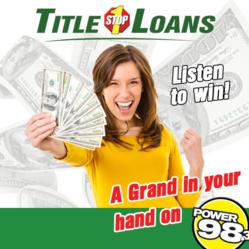 "A Grand In Your Hand." April 1 to April 30th on Power 98.3 - brought to you by 1 Stop Title Loans
Phoenix, AZ (PRWEB) April 01, 2013
KKFR/Power 98.3 and 1 Stop Title Loans present "A Grand In Your Hand"
KKFR/Power 98.3 and 1 Stop Auto Title Loans announced today a new promotion for the Phoenix valley, "A Grand In Your Hand." The cash contest will begin Monday, April 1, 2013 and run through Tuesday, April 30, 2013 and will offer Power 98.3 listeners the opportunity to win a $1,000 by listening each weekday Monday through Friday.
1 Stop Title Loans a locally owned and operated with 12 locations in Arizona offers many financial services that include Auto Title Loans, Personal Registration Loans, Check Cashing, 3rd Party Motor Vehicle Services, Bill Pay Services, Western Union Wire Transfers, Money Orders, Prepaid debit cards, Auto Insurance, Notary Services, and Fax & Copy Services. For more information on loan products visit 1StopTitleLoans.com or call 602-428-0088.
KKFR/Power 98.3 offers listeners Hip Hop and R&B and provides advertisers a multi-ethnic audience that mirrors the Phoenix market.