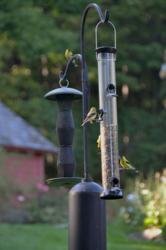 April is a great time to pick up low-cost or even no-cost gardening supplies from spring yard sales or giveaways.
Lebanon, Pa. (PRWEB) April 01, 2013
April is a great time to pick up low-cost or no-cost free gardening supplies from spring yard sales or spring cleaning giveaways say the garden experts at preen.com, a source of seasonal gardening and weed prevention tips. It's also a good time to cast a fresh eye on used household items that might be creatively repurposed for garden duty and to tackle some time and money saving chores in the spring garden.

Hit the yard sales, especially in older neighborhoods where people are downsizing. These weekend treasure hunts can not only be great fun, they can yield abundant finds in excellent condition, including bird feeders and other birding supplies, glazed and metal containers, carts, wagons, hanging baskets, tools, surplus sections of fencing, garden ornaments and more, all for pennies on the dollar.
Browse classified lists, giveaway websites and local community bulletin boards. Craigslist.com, freecycle.org and community bulletin boards are top sources for great stuff that others no longer need. These can range from a faded patio set that can be refurbished with paint and new cushions, to a fountain that just needs a new $20 pump, to a load of rock or topsoil that can be hauled away for the asking.
Attend garden club plant swaps and sales. These are prime places to find special plants at minimal cost. Just be wary of bringing home plants that may be invasive. A smart phone can be handy for checking out unfamiliar plants online to avoid a mistake.
Get great topsoil. Why routinely buy pricey bagged soil, year after year. Now is an excellent time to start a home compost pile that will soon produce a steady backyard supply of "black gold." Also check with local municipal offices in spring. Many towns offer leaf compost made from last fall's street cleanups.
Start plants from seed. Colorful new annuals and specialty vegetables are often more available as seeds than as pre-grown nursery plants, and usually much less expensive too. Frugal gardeners can start them up in recycled food containers or pots that have been disinfected in a solution of 1 part bleach to 9 parts water. Inexpensive workshop lights are fine for seedlings…no need to invest in costlier "grow" lights.
Prevent weeds now and save time all summer. Weeds, too, like to start their plants from seed in spring. This makes April a prime time to apply a fresh layer of mulch to garden and landscape beds, topped by a pre-emergent weed preventer such as Preen which stops weed seeds from forming roots. Weeds that don't grow don't need to be pulled.
Look at home too. Just because something was intended for one use doesn't mean it can't serve another in the garden. Check the attic and basement for items to be repurposed. Slats from old vinyl blinds can be cut up to make great plant tags. Old colanders are cute as planters. Plastic milk jugs cut in half can cover young plants to protect them from unexpected cold snaps. Old metal washtubs make stellar water gardens.
For other smart tips on seasonal garden tasks, see the "Garden & Landscape Tips" section of preen.com. Preen is the leading brand of garden weed preventers. Preen products don't kill weeds; they are weed preventers.