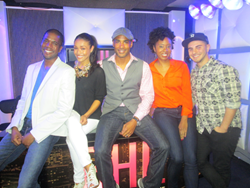 My mother had to endure a lot of racism raising two black children on her own.
Los Angeles, CA (PRWEB) April 01, 2013
(blackhollywoodlive.com) March 29th, 2013 -- Star of BET's new hit series, "Real House Husbands of Hollywood", Boris Kodjoe, made an appearance on the Black Hollywood Live network last week for an exclusive in depth interview. In the interview, Kodjoe discusses why he suffered from depression, growing up in Germany, getting bullied as a kid and how his grandmother survived the Holocaust.
On His Childhood in Germany
"When I look back to where I came from, from Germany, this little town...I had no aspirations of coming over here [to Hollywood] when I was a child. Being an actor, being a model, that was never really in my mind. To be sitting here on this couch, on Black Hollywood Live...to be here with you guys is amazing. Every day I have to pinch myself to realize, 'Wow! This is really my life.' I'm really blessed," Kodjoe says, "My parents raised us very open minded...Obviously there were obstacles and challenges. I was the only black child on my street. I was the only black child in my town. I was the only black child in my area, which was difficult at times because kids can be cruel. They would want to touch my hair and call me names. But it strengthened my character."
On Experiencing the Berlin Wall Come Down
"It was a great time in Germany," says Kodjoe, "In '89 the walls came down and that changed a whole lot. Not just Germany, but Europe as a whole actually. To be part of that and experience that sort of new energy and the new, young generation coming to power and the borders coming down and people embracing each other, that was a really great experience to have growing up."
"The older [I] get, the more [I] realize how historic that moment [the wall coming down] really was. It's the same as other monumental experiences you have in life, like 9/11. At the time you probably don't really grasp the size of the occurrence and what it really means until later."
"I took my kids to the inauguration two months ago and they're six and eight [years old]. I wanted them there because in 10 years from now, in 20 years from now they will appreciate and cherish that moment...I want to make sure they understand the value of those monumental occurrences."
On His Grandmother Surviving the Holocaust
"[My grandmother] was not of pure Arian descent. Her mother was Jewish and she happened to fall in love with my grandfather who was in the [Nazi] party who was a soldier. Those two worlds sort of collided and they had to hide her identity," Boris says, "He went off to war and she was pregnant at the time. When [my grandfather] came back, he came back with his arms blown off from a hand grenade when he was in Stalingrad. [My grandmother] basically raised three kids and this handicapped husband. It was a very, very, very tough time for my grandmother and my mom...it helps me put things in perspective."
On Being Raised by a Single White Mother
Boris describes his father leaving when he was a child. "[My mother] had to endure a lot of racism raising two black children on her own."
On Not Being Able to Talk to Girls as a Teenager
After moving to the states, Kodjoe explains struggling with the opposite sex, "A lot of things got lost in translation when dealing with the opposite sex...Half the time I had no idea what these girls were saying [because of the language barrier]. I just always agreed to everything and said, 'Yes, thank you.'"
On Getting Over His Depression
"My mother helped me realize there was more to life than just tennis," Kodjoe says, "My relationship with my brother is great, he's like my twin so he was always uplifting and supporting. Being in a new environment in the states you forget about it."
On Women When He was Modeling
"Women are very aggressive [towards me]. You go into a hotel room and there's someone already in there minus clothes.
On TLC's Rozonda "Chilli" Parker
Kodjoe says, "Chilli is my girl. She's a sweetheart and we're still friends to this day."
On Losing His Accent for Acting Roles
"I knew I had to work hard to get my [German] accent under control. When people say now that they thought I was American, that's a testament to all the hard work I did," Boris says, "When I first did Soul Food, when I met my wife, [Nicole Ari Parker], she would read the lines to me and I would mimic what it sounded like, because I was just not good at it yet. It was sort of like an apprenticeship for me. I was still so self conscious about the way I spoke that I had a hard time really relaxing and focusing on what I needed to do. [Nicole] helped me a lot. She broke down scripts for me. She explained colloquialisms, sayings and references to shows that I had no idea about because I wasn't raised [in the United States]."
On Real House Husbands of Hollywood
"We do improv a lot, but this is all about making fun of myself, making fun of each other and making fun of reality TV. We wanted to make a social commentary on reality TV and what it does to society as a whole...it makes a statement."
Black Hollywood Live's Portraits show, hosted by Derrial Christon, Alia Kruz, Jesse Janedy and Courtney Stewart airs live Friday nights at 6pm PT and is available for download the next day on iTunes and BlackHollywoodLive.com. Black Hollywood Live is the world's first online broadcast network dedicated to African American entertainment news. BHL programming features inside information, insightful commentary, and in-depth interviews with Hollywood's biggest stars and influencers. For further information about the network, visit BlackHollywoodLive.com