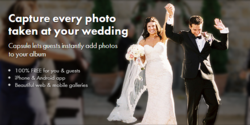 Manhattan Beach, CA (PRWEB) April 03, 2013
Private group and event-based sharing platform, Capsule, announced that it is now a completely free service. Capsule helps couples capture, collect, and keep all the candid and spontaneous moments that take place at their weddings by instantly aggregating guests' photos. Couples can set up their free, private capsule through their wedding website on theKnot.com or directly at tryCapsule.com.
This is the second major development Capsule has seen this year following their partnership with theKnot.com (XO Group), the #1 online resource for weddings. "Recently married, I am sensitive to the costs involved in having a wedding and excited to be able to offer couples the chance to use Capsule free of charge. Our goal is to build great technology, both on the web and mobile, and allowing a larger number of people to use the service is rewarding," said Co-founder & CEO, Cyrus Farudi.
Farudi and the rest of the Manhattan Beach-based team want every couple to realize the value Capsule adds to the wedding experience. A large part of that value comes in its fun and effortless process. Every photo taken by guests using CapsuleCam or via Instagram with a custom hashtag, instantly syncs to a central, group album or "capsule." Unlike other wedding apps, Capsule simplifies photo capture and collection even further by providing couples with complimentary, custom information cards to instruct guests at the wedding on how to participate. There is no limit to the number of photos and videos guests can upload and never a charge for photo downloads. In addition, Capsule promises lifetime hosting for not just the wedding, but for all of life's group adventures.
About Capsule
Capsule (http://www.tryCapsule.com) is the easiest way to capture every photo taken at a wedding. CapsuleCam, the mobile app for iPhone and Android, lets guests add photos to a shared, central wedding album instantly with no uploading required. Capsule members can interact, comment, order prints, download high-resolution copies and share to social networks directly from the website. Capsule was designed not just as a wedding app, but also to accommodate all the events surrounding the big day, including the engagement party, bachelor/bachelorette party, bridal shower and honeymoon.
For more information, visit tryCapsule.com or find us on Facebook (facebook.com/tryCapsule), Pinterest (pinterest.com/tryCapsule) or Twitter (twitter.com/tryCapsule).