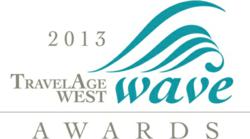 East Hartford, CT (PRWEB) April 01, 2013
Travel Insured International has been honored with a TravelAge West 2013 Editor's Pick Award in the category of Best Travel Insurance Company as part of the TravelAge West WAVE Awards. The goal of the award is to give travel agents in the Western U.S. the opportunity to recognize the outstanding qualities and services of their travel-supplier partners.
The Editor's Picks were chosen by Editor-in-Chief Ken Shapiro and the entire editorial team of TravelAge West. Review methods included product analysis, on-site visits, a survey of a select group of travel agents and online research.
In addition to this distinction, Editor's Pick honorees are also in the running for a WAVE Award, to be determined by a TravelAge West readers' choice poll conducted during the month of April. The voting is open to readers of the print and online publication, available at http://www.travelagewest.com.
TravelAge West will also award the TravelAge West Lifetime Achievement Award, honoring an individual who, in the course of their careers in travel and tourism, consistently have demonstrated leadership and insight, effected change or innovation and made extraordinary contributions to both organizations and the industry at large.
Editor's Pick recipients will be celebrated at the WAVE Awards gala dinner on June 6 at the Four Seasons Los Angeles in Beverly Hills, Calif., where the readers' choice winners will be announced as well. TravelAge West will include a special WAVE Awards section in the July 8, 2013 issue, highlighting award winners.
About TravelAge West:
TravelAge West is the leading trade magazine for travel agents and the travel industry in the 14 western states. Serving its 22,000 readers for 44 years, the biweekly magazine is a main source of news and product information for the region's agents and travel executives. TravelAge West is a part of Northstar Travel Media LLC, a worldwide provider of information, news and data for the travel and hospitality industry. Northstar Travel Media is based in Secaucus, N.J.
About Travel Insured:
Travel Insured International is one of the largest privately held travel protection companies in the US, and preferred supplier to over 5,000 travel agents, travel consortiums and wholesalers in the US and abroad. As a former division of the Travelers up until 1994, and originator of travel insurance in the US, you can say that the "travel protection" blood lines run deep. Travel Insured International's customer centric claims operation has significant expertise in both domestic and international claims administration.
Travel Insured International
52-S Oakland Ave.
E. Hartford, CT 06128-0568