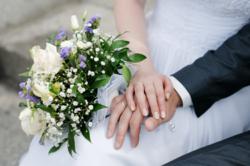 Newport Beach, CA (PRWEB) April 01, 2013
More engaged couples are throwing traditional wedding themes to the wind in exchange for unique, unorthodox ones such as LEGOs. It also just so happens non-traditional themes are the most memorable, says Wedding.com.
In fact, LEGOs have made appearances in different aspects of weddings for a couple years now. One couple decided to create a wedding theme out of LEGOs for their 2011 nuptials in Atlanta. Still others have incorporated the toys into proposal plans, wedding cakes, favors, and more (http://www.huffingtonpost.com/2013/03/27/lego-wedding_n_2958578.html). While Wedding.com has seen a recent influx of unconventional wedding motifs in recent years, a LEGO theme is rare. Experts at Wedding.com are convinced that any offbeat theme can be made to exude elegance and sophistication with a little imagination.
"Couples are coming up with the most creative, new wedding themes," says Brett Reynolds, CEO of Wedding.com. "It is as simple as finding something of significance in your relationship, no matter how obscure it might seem for a wedding. The possibilities are endless."
For more information about Wedding.com, please visit http://www.wedding.com.
About Wedding.com
Wedding.com is an innovative new website that connects engaged couples planning their wedding with wedding vendors looking to grow their business. Wedding.com contacts vendors for couples, giving them the power to compare and negotiate while ultimately saving time and money. With 12,000 couples and 22,000 vendors currently using the website, 105,000 proposals have already been sent since their inception. Vendors range in services from wedding planners, photographers, florists, and DJs to custom invitations, party favors, and much more. For additional information about the company and its services, please visit http://www.wedding.com.