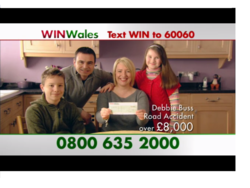 We understand the Personal Injury sector well, our ad agency team having successfully handled TV for accident compensation clients since 1995
(PRWEB UK) 2 April 2013
The DRTV Centre, the leading UK direct response television advertising agency, has just launched two new 30 second TV accident compensation commercials for its client WinWales. The new commercials went on air this week on ITV Wales station HTV.
The commercials, which were filmed in Cardiff and Elstree, are designed to help injured people throughout Wales to win justice and secure compensation for their injury. The theme is "helping people like you". Supporting this claim, several real award examples featuring previous WinWales clients are highlighted in the commercials. The No Win No Fee service promises claimants "the compensation you deserve". A Welsh male voice choir singing "Win Wales" is featured in the commercials, whilst the visual them shows the Wales "Red Dragon" flag and the national colours.
The ad agency team has been handling WinWales advertising since 2010. The brand has advertised on TV every month for the last two years.
About WinWales:
WinWales was formed in 2004. It is wholly owned by a network of solicitors' practices which have specialist lawyers dealing with personal injury claims. The company has offices across Wales. WinWales' objective is to help people who live in Wales to win the compensation they deserve for a wide range of personal injuries and illnesses which were someone else's fault; several thousand have already been helped.
WinWales personal injury solicitors work on a No Win No Fee basis. Compensation claims are handled by the appropriate WinWales specialist personal injury solicitor based closest to each claimant's home. Each client deals with one friendly specialist solicitor throughout the entire process of his or her compensation claim; clients do not have to deal with impersonal call centres, and the appointed personal injury solicitor will be on hand to give all the help and advice needed. To enforce strict professional and ethical practices all WinWales members are registered with The Law Society.
David Pearson, founder of The DRTV Centre, comments: "We understand the Personal Injury sector well, our team having successfully handled accident compensation clients since 1995. The market has undergone many changes over the years and these new commercials are designed to ensure that WinWales remains one of the foremost companies in this sector".
About The DRTV Centre:
The advertising agency was founded in London sixteen years ago. It is the only ad agency in the UK to concentrate purely on direct response TV.
The agency's expertise includes direct response advertising for annuities, coins & jewellery, communications, comparison websites, education, equity release, holidays, injury compensation, law, loans, pet insurance, toys and travel.
The DRTV Centre's service includes everything clients need to mount successful DRTV campaigns: strategies, idea creation, scriptwriting, storyboards, research, casting, location search, film/video production, music, voice-overs, Clearcast clearance, transmission copies, channel selection, TV airtime planning/booking and campaign response analysis.
Great TV campaigns require specialist advisers. For more information, call The DRTV Centre on 0800 635 9000.