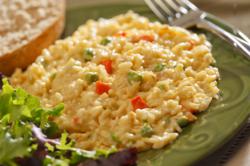 American Fork, UT (PRWEB) April 12, 2013
GOFoods Global, LLC, a leading food provider, has acquired a new corporate headquarters in American Fork, Utah to support its growth. Its go anywhere, do anything food solutions, including daily use, quick fix and extended shelf life products are widely distributed throughout North America by thousands of Independent Business Owners (IBOs).
The company has moved to a larger more modern office to support the company's business strategy and global support operations. Brad Stewart, GOFoods CEO, comments: "We are excited about the opportunity our new office provides to work even more closely with our customers and IBOs in helping them to unlock the full potential of their business and optimize their goals. The expected growth of GOFoods operations, coupled with our desire to provide employees with a workplace they can be proud of, were key factors in opening this new office."
Making a Difference one person at a time: People can't get enough of this exceptional company and its products. GOFoods' go anywhere, do anything food and their nationwide force of IBOs are serving, saving and sharing a food product every six seconds. The power of person-to-person marketing, home based parties, local fundraisers, social media engagement, and their free sampling program is establishing GOFoods as a very exciting opportunity in the Network Marketing world.
Corporate Citizenship: The mission of GOFoods is providing food security, opportunity, and prosperity to people everywhere. Their philanthropy model is served through the GOFoods Foundation which partners with charitable organizations around the country providing food in the areas of greatest need. For every ten packages of food purchased by consumers, GOFoods donates one package of food or its equivalent in servings to those who are at risk for hunger.
GO Forces Program: Honors the military, veterans, law enforcement, fire, emergency services, and seniors—those who have given so much by waiving the wholesale membership fee (regularly $29.95 per year), and providing special shopping days, and additional discounts only available to GO Forces members 365 days a year.
Product and Price Guarantee: It would be difficult to find a company or similar food line with the same benefits, quality or variety at a better price. This is backed by a 100% satisfaction guarantee. These relevant products are needed by everyone, and come with the Nutriversal Seal of Promise™. With this seal and the Nutriversal symbols shown on all packages, consumers can rest assured these products have met the highest quality standards in the food services industry.
Sharing Lifestyle Benefits:

Be your own boss
Set your own hours
Work from home
Great earning potential
Work independently or with a team
Determine your family/work/lifestyle balance
Share to Earn Opportunities: Six ways to earn income.

Retail Profit
Personal Sales Bonus
Fast Start Bonus
Unilevel Bonus
Advancement Bonus
Global Leadership Pools
Training and Support System

Videos, audios, webinars, and the GO System
Regional training events, regular conference calls, and IBO support staff
Tools to Help Members Shine: Complete marketing, sales, and personal empowerment materials at your fingertips, from prospecting tools, to your own personal marketing website.

Bi-monthly GONews newsletter
Social Media Sharing Platform
Cash Debit Card
Conference Calls
Online Back Office
Product Brochures
Incentives, Rewards, and Recognition: Bask in the glow of success, from financial incentives to paid vacations and company awards.

Incentive Trips
Loyalty HDP rewards
Home Delivery Program
Annual Shipping Discount
Recognition Program
AVAILABLE: United States and Canada
WHERE TO BUY: Available exclusively through GOFoods Independent Business Owners (IBOs). To locate a GOFoods Representative call 1-800-877-4739.
Be sure to check out the Home Delivery Program (HDP) - Bringing GOFoods to your door!
About GOFood s: GOFoods is a leading global food company. As the world's premiere direct seller in daily use, quick fix, extended shelf-life food, GOFoods markets its products in the US and Canada through thousands of active Independent Business Owners. GOFoods product line includes soy free, gluten free, lactose free, irradiation free and vegetarian products as well as non-GMO, no trans fats, no hydrogenated oil, no added MSG and made in the USA. All food products feature the highly respected Orthodox Union Kosher certification. Learn more about GOFoods and its products at http://www.gofoodsglobal.com.
For further information contact: Mike Casperson, 1-801-723-1029