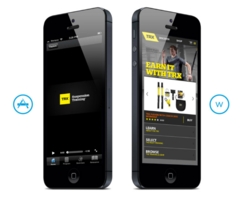 The closer we can come to creating equal or better experiences on browsers, the lower bounce rates will be when users come from apps.
Columbia, MD (PRWEB) April 01, 2013
The decision to opt for the native app path versus building specified mobile websites is one the FiddleFly team has addressed plenty of times in the past. While we've reached a point where the choice is becoming more formulaic than it is a matter of preference, the reality remains that apps and mobile sites both have a powerful place in today's business world. The problem that marketers are encountering now however, is finding the right way to utilize both to produce the best results.
While many are trying to plead their case for more impressions and touting the opportunities without any real proof, FiddleFly's mission is to help businesses create real outcomes in the mobile space. One of the best ways to do this is by closing the gap in user experience between native apps and mobile websites, and on April 2 at 1PM EST, they will be hosting a free live webinar offering tips and strategies on how to do just that.
For what seems like ages now the world has been trying to solve the mystery of mobile advertising. Banner ads continue to underwhelm on mobile, businesses are failing to create optimized landing pages, and users tend to quickly bounce before making purchases. These are just a few of the hurdles that the FiddleFly team has spent countless hours studying and even more time finding real, measurable solutions. During the April 2nd webinar, FiddleFly's Director of Media, Mike DiMarco, will not only address these issues, but also offer a host of practices that can help create brand consistency, drive specific outcomes, and help you build more effective mobile web content.
There are plenty of unique features that both native experiences and browser-based mobile sites present; some quite obvious (such as native apps being able to deliver rich experiences without available internet connection) and others more complex (such as the far more affordable and easily updatable nature of mobile sites). While the choice to go native or go browser is a crucial one to address, this webinar will not aim to persuade that decision, but rather to help marketers, designers, and business owners create mobile web content that works in conjunction with native app experiences to create fewer bounces and increase conversions.
You can sign up for the webinar for free at http://mastering-mobile.com as well as learn about FiddleFly's upcoming presentations, and for more information about partnering with FiddleFly on any of your mobile projects, you can visit https://fiddlefly.com/partner.
About the Speaker:
As FiddleFly's Director of Media, Mike spends his days scouring the web for breaking news about mobile, writing non-stop, being very silly, and prematurely going gray. His work has been featured prominently on his mother's refrigerator, however more recently in publications such as Mobile Marketer and Website Magazine.