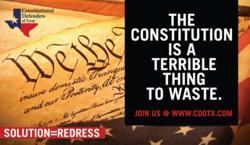 "All tyranny needs to gain a foothold is for people of good conscience to remain silent" Thomas Jefferson
Dallas, Texas (PRWEB) April 11, 2013
Resist Tyranny Expo was set up to provide a venue for people to get together and exchange discourse on Constitutional freedom and promote an environment that encourages awareness of the pressing issues that face our country today.
Regina Imburgia is a member of this group and the co-chair of the Resist Tyranny Expo. She is passionate about creating a memorable event. She has coordinated a day full of music, door prize drawings and a chance to mingle with like-minded people. The weather should be beautiful. Events include an open mic set up on a 16x12 foot stage where people are able to voice their opinions, and engage with the audience. Over thirty five tables will be hosted by vendors, group leaders, candidates, and some hosted by people with an ardent desire to inform on just one topic. Constituents will also be able to talk with a local homeschooling mother, pet the chicks, bunnies or baby goats while getting pointers on how to care for them. People who are attending the event will have a myriad of tables to inform themselves. Resist Tyranny Expo has teamed up with March Against Monsanto, and provided them with a table which will promote their Nation Wide Event on May 25th. The March has over 300 people who will organize at the event. Tables also in attendance include a setup from Moms for Marijuana and the Texas Coalition for Compassionate Care (a group that advocates and lobbies strictly for Medical Marijuana Patients), a Commercial Pilot that gave up her lucrative job to become an Organic Farmer, Oath Keepers and Game Chaingers some of the several groups, Harvey House Dog Rescue and a K9 Training Specialist will team up, along with several others. Each table provides information about specific outreaches all purposed to informing the public of how their groups are standing for the same cause. Many will have DVD giveaways. Small business owners like Jon Burroughs and Stacie Mae will advertise their products and services. This outside part of the event provides a venue for ideas to be shared.
In the Sanctuary there will be two Speaker Programs, free to attend. The first 1-3PM will hear about the History of "the shot heard around the world" from Micha who will be in Paul Revere costume. Next hear from Waco survivor Clive Doyle about his experiences 20 years ago during and after the tragic fire that killed 17 children, one being his daughter. Representative Charles Key from Oklahoma will then speak about the Murrah Building Bombing; he will bring and explain the Official Report Findings. Finally, Virginia Proden shares her real life tyranny story being a Communist Romania survivor. The Second Program is from 3-5pm, titled the Action Program. Constitutional Defenders of Texas leader Pastor Broden will discuss the process of "We the People" demanding "Redress". Rep Charles Key returns to explain Nullification. William Cherry shares the JBS view of how to get involved. Then Gunter Spens a spokesman for Oath Keepers shares his experience as a soldier in Communist Germany when he and others refused to fire on the citizens. The beginning of the Revolutionary War, Waco Branch Dravidian Tragedy, and the Oklahoma City Bombing share the same anniversary date April 19th. We must remember all three and those that died.
Fair Park Bible Fellowship is located at 1321 Rowan, Dallas Texas 75223. For any further information on attending or hosting a table, please contact Regina Imburgia at 214-597-5038 0r email regina.imburgia(at)gmail(dot)com