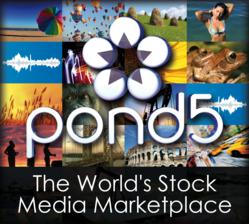 Pond5 is focused on creating the fastest, most artist-friendly platform for media makers around the world to exchange creative elements, connect with other creators, and get inspired."
Oak Park, CA (PRWEB) April 02, 2013
Pond5, the world's stock media marketplace, is sponsoring the Digital Production BuZZ, the online radio show and podcast, daily special coverage of the NAB Show 2012 to be held in Las Vegas, April 6 to 11, 2013 announced Larry Jordan, the show's executive producer and host.
"Pond5 has an amazing collection of media that would interest any producer," said Larry Jordan. "We are delighted to share news of Pond5 with our worldwide audience of filmmakers, producers, and media creators."
"We're focused on creating the fastest, most artist-friendly platform for media makers around the world to exchange creative elements, connect with other creators, and get inspired," says Tom Bennett, co-founder and CEO.
Pond5 announced its public release of the new version "v2" of its website earlier this year and most recently announced that they have reached a definitive agreement under which the company will acquire the assets of Pixmac, a leading stock imagery network based in the Czech Republic. The purchase will double Pond5′s overall traffic, and together the combined entities will have more than half a million registered users and hundreds of thousands that have licensed media from the marketplaces.
"Pond5's recent acquisition of Pixmac makes them a global player in stock media in ways other companies can't touch," said Laura Peters, marketing director for Larry Jordan & Associates. "Pond5 now has support in 17 languages, and their policy of letting artists set their own prices and offering a higher percentage of sales revenue to those artists, is incomparable."
This year, the Digital Production BuZZ will broadcast audio and video, recorded live on the NAB trade show floor in booth SL11505. The BuZZ highlights news and new products from across the industry with dozens of interviews of key industry leaders. Each show is hosted by Larry Jordan and posted at http://www.NABShowBuZZ.com every evening (Las Vegas time), starting Monday, April 8th.
About Pond5
Pond5, the World's Stock Media Marketplace(TM), is a community-driven marketplace for media makers. It features the web's largest collection of royalty-free stock footage (over 1,000,000 video clips), as well as millions of stock photos, vector illustrations, music tracks, sound effects, and After Effects motion graphics templates. All media on Pond5 is instantly downloadable, and licensed under a simple royalty-free license. Prices, which are set by contributors, range from $1 and up. Pond5 was launched in 2006 and is based in New York City. To learn more about Pond5, visit http://www.pond5.com, or become a fan on Facebook at: http://www.facebook.com/pond5, or follow them on Twitter @Pond5
Visit Pond5 at NAB Show 2012 in one convenient location, booth SL14213.
About NAB Show
NAB Show, to be held April 6 to 11 in Las Vegas, is the world's largest electronic media show covering filmed entertainment and the development, management and delivery of content across all mediums. With more than 90,000 attendees from 151 countries and 1,500+ exhibitors, NAB Show is the ultimate marketplace for digital media and entertainment. From creation to consumption, across multiple platforms and countless nationalities, NAB Show is home to the solutions that transcend traditional broadcasting and embrace content delivery to new screens in new ways. Complete details are available at http://www.nabshow.com
About NAB
The National Association of Broadcasters is the premier advocacy association for America's broadcasters. NAB advances radio and television interests in legislative, regulatory and public affairs. Through advocacy, education and innovation, NAB enables broadcasters to best serve their communities, strengthen their businesses and seize new opportunities in the digital age. Learn more at http://www.nab.org.
About the Digital Production BuZZ
The Digital Production BuZZ is one of the world's longest-running live internet radio talk shows and podcasts. They are the leader in programming related to digital video production, post-production and distribution. The BuZZ has been bringing listeners, "All the news they need now and in their digital future!" every week since 2005.
New episodes of the weekly Digital Production BuZZ air live Thursdays from 6:00 to 7:00 p.m. PST. Listen live at http://www.digitalproductionbuzz.com or download the program later on iTunes (here). Sign up for the BuZZ Newsletter and get a sneak peak of each week's show.
Executive producer and host of the Digital Production BuZZ is Larry Jordan (media expert, Apple-certified trainer specializing in Final Cut Pro training, author, and member of the Directors Guild of America and Producers Guild of America). Michael Horton co-hosts (actor, film editor and founder of the Los Angeles Final Cut Pro User Group and organizer of the world-renowned SuperMeets). Cirina Catania (writer/director/journalist and member of the Producers Guild of America and the Writers Guild of America) produces the Digital Production BuZZ. Debbie Price (actor, producer) is the producer of the 2012 NAB Show BuZZ Special Coverage.
Visit the NAB Show BuZZ booth during NAB at SL11505.
About Larry Jordan & Associates, Inc.
Larry Jordan & Associates, Inc. provides high-quality, engaging training and information covering video production and post-production for practicing professionals and students through a variety of media worldwide. The company was founded by Larry Jordan, an internationally renowned digital media analyst, producer, director, consultant and Apple-Certified trainer specializing in Final Cut training. Jordan's free Final Cut Newsletter is read by creative professionals around the world and is available at http://www.larryjordan.biz/nxlttrs.html.
To schedule an interview on the NAB Show BuZZ contact Debbie Price at Debbie(at)LarryJordan(dot)biz
To schedule an interview on the weekly Digital Production BuZZ, contact Cirina Catania, Supervising Producer
buzz(at)catania(dot)us
For sales and advertising inquiries, contact:
Laura Peters
Marketing Director
Larry Jordan & Associates, Inc.
Laura(at)larryjordan(dot)biz