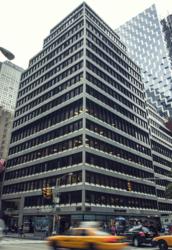 Due to our wide range of services and diversified resources, we can find the right office space solution for any business
New York, New York (PRWEB) April 02, 2013
Corporate Suites, one of the leading providers of office space rentals and virtual office services in New York City has seen a pronounced increase in demand for physical office space at all seven New York City office space locations, as a result of the economic recovery and firms hiring more staff. Many of their clients are also making the transition from a virtual office to a furnished team room with all corporate amenities.
A virtual office has long been an ideal solution for small, recently founded businesses and those businesses that see seasonal demand – attorneys, accountants and many financial professionals often use New York City virtual office services to maintain a prestigious business address year-round, cutting overhead costs and reducing commute time as they can perform much of their work from home. A virtual office service allows not only for a prestigious business address, but meeting rooms and private offices are available for hourly and daily rental when businesses need to meet with clients.
But as economic conditions improve, particularly in the New York City area, many virtual office customers at Corporate Suites have transitioned into full-time, private, furnished office space rentals in Manhattan. Having a fully furnished office space with all corporate amenities, in the heart of Midtown and the Financial District, creates a professional environment for rapidly expanding small businesses.
"Our mission at Corporate Suites is to take care of the office space, so that our clients can focus on growing and building their core business." says Hayim Grant, President of Corporate Suites. "In the past few months, we've seen more and more of our NYC virtual office clients come to us looking to transition into a physical office space as they've expanded their staff, services and seen increased business demand. We offer them many options with flexible lease terms so they can choose the right solution for their business."
"The demand has been pronounced across all seven of our Manhattan locations, particularly 22 Cortland St. in the Financial District – a key location for attorneys and finance professionals due to its location close to City Hall, the New York Stock Exchange and the new World Trade Center – as well as 275 Madison Avenue in Midtown, where we've seen additional space taken by rapidly growing marketing, advertising and consulting firms," added Grant.
Both virtual office and office space clients at Corporate Suites are offered availability at all seven locations and have access to full amenities of a corporate office – including conference rooms for rent in New York City, tastefully decorated reception areas with a professional receptionist to handle phone inquiries and greet clients, and on-site high-speed internet and professional telephone services. "Due to our wide range of services and diversified resources, we can find the right office space solution for any business," mentioned Grant.
About Corporate Suites: Corporate Suites is one of the largest serviced office space providers in New York City. With over a decade of experience managing hundreds of executive office suites for thousands of satisfied clients, we will provide and professionally manage the perfect office solution for your business. Find more detailed information at http://www.CorporateSuites.com