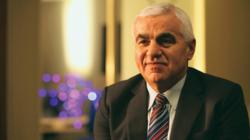 What's the biggest difference that I've seen? Improved performance, which is why we embarked on a culture change program in the first place.
Los Angeles, CA (PRWEB) April 02, 2013
Senn Delaney, an international culture-shaping firm, has released a new video interview with UK Power Networks CEO Basil Scarsella on why he created the 'UKPN Way' corporate culture when the company was formed two years ago. Scarsella describes how the culture was intentionally shaped to help UKPN fulfill its vision of delivering a first-class network as measured by reliability, customer service, cost efficiency and safety and become an employer of choice and respected corporate citizen.
UK Power Networks (UKPN) was formed in 2011 when Cheung Kong Group (CKI) acquired three electricity networks — in London, in the southeast and east of England. UKPN delivers electricity to a quarter of Britain's population — about 20 million people and eight million households. CEO Scarsella declared his aims for the company, including being ranked by industry regulator Office of the Gas and Electricity Markets (Ofgem) in the top third for customer service, reliability and efficiency, and rated by employees in the upper third of companies treating their employees fairly and with respect. Scarsella knew he needed to create a culture that brought the three acquired companies together into one culture to focus on achieving those goals, he states in the new leadership video with Ian Johnston, Senn Delaney senior vice president and energy practice leader for EMEA.
According to Scarsella, since the power distribution company embarked on the culture-shaping program, progress has been measured on several key goals. In 2012 UKPN dramatically improved the reliability of power supplies, customer satisfaction, staff engagement and development, and achieved strong financial performance. In December 2012, it was recognized as 2012 Utility of the Year at the annual utility industry achievement awards, which honors companies whose outstanding performance drives excellence in the water and energy sectors.
"The best thing we have seen is a significant improvement in performance in just about every area," Scarsella tells Johnston in the video interview. "Engagement from the employees between 2011 and 2012 for example has improved by something like 25 percent. The reliability of the network has improved by 40 percent... Ultimately, getting judged to be Utility of the Year, I think is a reflection of everything we've done."
The latest video featuring Scarsella is part of Senn Delaney's CEO thought leadership video series on culture shaping. Videos can be viewed at SDTV, Senn Delaney's thought leadership video platform designed as a forum for sharing engaging case studies and best practices of interest to CEOs, executives and senior business leaders on why organizational culture is a key driver of business performance. Several Senn Delaney leaders share insights from 30 years of work guiding Global 1000 and Fortune 500 companies to create high-performance cultures. Watch the video preview.
About Senn Delaney
Founded in 1978, Senn Delaney, a Heidrick & Struggles company, is widely recognized as the leading international authority and successful practitioner of culture shaping that enhances the spirit and performance of organizations. Senn Delaney's passion and singular focus on culture, combined with decades of hands-on experience, have resulted in a comprehensive and proven culture-shaping methodology that engages people and measurably impacts both the spirit and performance of organizations.