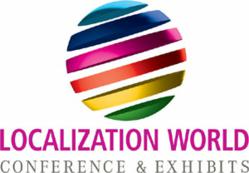 Our program is especially valuable for companies that want to venture into new international markets.
Singapore (PRWEB) April 02, 2013
Singapore to Host Localization World
Theme: Localization in a Shifting Global Economy
The organizers of the annual conference and exhibition, Localization World, are producing an Asian version of the event in Singapore, April 10-12. Localization World brings together delegates who are engaged in the business of adapting products, services and communications to an international language or culture so as to appear native to that particular region. Speakers at the conference include representatives from Autodesk, Google, IBM and Microsoft. More than 200 delegates representing all manner of industries are expected to attend.
Ulrich Henes, the conference co-organizer and president of the Localization Institute, says: "Localization World Singapore is the result of the desire of many of our Asian counterparts to host this event in the east. Singapore is home to a significant number of companies that have international and regional headquarters based there and it is truly an international business destination."
According to Donna Parrish, publisher of the magazine MultiLingual and co-organizer of Localization World, the event is valuable for people responsible for communicating across the boundaries of language and culture. "Our program is especially valuable for companies that want to venture into new international markets as well as those who are seeking to learn more in-depth information from some of the most sophisticated marketers in the world."
The preconference day will include full-day and half-day workshops, as well as a Life Sciences Round Table. The full-day workshops include Content Strategy: A Primer for Localization Practitioners, and East Meets West.
Manu Bhaskaran, CEO, Centennial Asia Advisors Pte Ltd, will deliver the keynote, The Shifting Global Economy, which will outline important new trends and shifts that mark the post-crisis global economy. Attendees may choose from three tracks during the main conference: Business, Localization Management and Technical.
Some highlighted presentations include:

Content Strategy in a Content Economy
Asian Languages and the Global Web
Best Practices for Developing a Globalized Mobile Application
Business Transformation — Globalization in Big Data
Internationalizing a Complex B2B Application
The full conference program is available at http://www.localizationworld.com/lwsing2013/program.php.
This conference also represents an opportunity for executives and managers to review the best products and services in the exhibit hall. Localization World Singapore sponsors include: Lionbridge, Scribers International, Verztec Consulting, EQHO Communications, Hunnect Limited and Moravia.