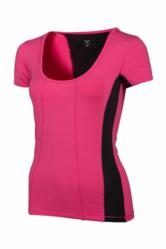 VIPE was designed with the female form in mind so each and every piece works to accentuate a woman's best assets, while also improving the quality of her workout
New York, NY (PRWEB) April 01, 2013
It's time to turn heads at the gym. Forget boring old black, VIPE Activewear adds high-tech performance and fashion to your normally staid workout wear with its debut collection. This new apparel line launches at a time when busy women are looking to be covered in all aspects of their lives, including their sportswear.
Designed in Europe by a former professional athlete who knows a thing or two about apparel and sports, VIPE puts the emphasis on smart, stylish designs that not only work at the gym, but in other parts of your daily life as well. CEO and VIPE designer Marlies Korijn believes that "women need multifunctional products to fit their busy lifestyle. I created VIPE Activewear to be stylish and sophisticated but most important, to fit all aspects of today's active woman."
After years of playing professional field hockey, Marlies Korijn felt her sportswear focused more on pure performance than on comfort and style. With a Bachelor's Degree in marketing and communications, Marlies went back to school in the United States to study exercise science and further her education about the body beyond what she knew from her field hockey days. She also drew on her family's nearly 100 years of experience in the fashion industry, to help influence her current line, VIPE.
Also designed with the female consumer in mind, the new VIPE website and e-commerce site is easy-to-use and even easier for consumers to navigate in search of their favorite sports wear at http://www.TheVIPE.com.
Marlies believes this new collection brings something fresh and unique to the market, "VIPE was designed with the female form in mind so each and every piece works to accentuate a woman's best assets, while also improving the quality of her workout."
But Marlies wasn't just satisfied with creating a stylish product; she wanted the best quality and fabric as well. This led to VIPE Vibrant. Thanks to its special weave structure composed of multi-layered microfilaments, VIPE Vibrant is a non-pilling fabric with an endless lifetime. Unlike staple fibers, such as cotton or wool, it will not irritate even the most sensitive skin. It is soft, lightweight, very absorbent and quick drying. The millions of micro-channels created by the microfilaments allow for extended airflow, making the fabric ultra breathable. Through its superior moisture management capacity, sweat is completely whisked away and the fabric rapidly dries moisture away from the skin.
From tank tops to jackets, the VIPE Collection features smart and innovative designs such as mesh paneling for increased cooling, sexy and stylish cutouts, which also work to keep the body cool, thumb holes and hidden pockets. The VIPE Collection also includes contrast seaming on many of the pieces, which helps to slenderize the body and accentuate your best assets.
VIPE's debut collection is now available for purchase on http://www.TheVipe.com and ranges in everything from tank tops to crop tops to capris to jackets and more. Pieces range in price from $48.00-$122.00 and are available in sizes XS-XL.
For further information, samples or images, please contact: Felissa Benjamin, felissa(at)cricciocomm(dot)com or Cindy Riccio cindy(at)cricciocomm(dot)com