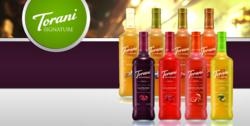 City of Industry, CA (PRWEB) April 01, 2013
Experience spring with natural syrups so exceptional they deserve Torani's signature. Torani Signature Syrups are made with a unique blend of pure cane sugar and agave, maple or caramelized sugar. The sugar is specially selected to enhance each syrup flavor in a distinctively delicious new way. Available in eight different flavors, ranging from refreshing Lime to aromatic Vanilla, Torani Signature Syrups are as low as $5.35/bottle. Made from simple real ingredients, Torani Signature Syrups have natural flavors, natural colors, pure sugars and no preservatives – a great way to bask in the flavor without the added ingredients.
Due to popular demand, LollicupStore.com has created a TeaZone® Powder Starter Kit – great for any one who loves bubble tea. The TeaZone® Powder Starter Kit is the perfect start for any shop owners who want to serve bubble tea in their store. Only, $5.99 each kit includes eight deliciously popular flavors along with two step-by-step recipe flyers and a Lollicup® scoop.
Also, offered at LollicupStore.com is Cafvina Coffee. Enjoy bold coffee taste with a fantastic aroma. Cafvina Coffee is available in whole beans or grounded and as low as $5.50/bag. With a strong devotion to the finest ingredients, Ghirardelli produces quality American chocolate powders and sauces for as low as $4.25/bottle. Professional and sleek Blendtec Blenders are also available as low as $395/blender.
About Lollicup® USA, Inc.
Lollicup® USA Inc. is headquartered in City of Industry, California and is widely known for retailing bubble tea drink products under the Lollicup® Coffee and Tea and Lollicup TeaZone® brands. For more information, please visit LollicupStore.com
###
If you'd like more information about this topic, or to schedule an interview with Alan, please call Michelle Lam at (626) 965-8882 ext 134 or e-mail Michelle at michelle.lam(at)lollicup(dot)com