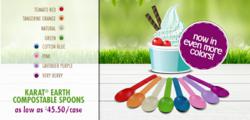 City of Industry, CA (PRWEB) April 01, 2013
The newly arrived Cotton Blue, Lavender Purple, Tomato Red, and Tangerine Orange join Karat® Earth's popular Compostable Colored Spoons. Previously only available in Pink, Natural, and Green, Karat® Earth Compostable Colored Spoons are as low as $45.50/case. With the expanded color selection, Karat® Earth Compostable Colored Spoons will surely brighten any springtime treat while minimizing the carbon footprint compared to standard disposable utensils.
Add color into your store with generic printed Paper Cold Cups. CupDepot.com Paper Cold Cups are double poly-lined to prevent leaking and for added resilience while widely used for fountain drinks. The sophisticatedly designed Karat® Kold Paper Cups are available in sizes ranging from 16oz to 32oz and as low as $69.50/case. Meanwhile, Coca-Cola branded Paper Cold Cups are available from sizes ranging from 16oz to 44oz and also available for as low as $69.50/case.
Looking to include color without spending too much? Karat® Colored Teaspoon's are a great place to start. Made from heavy-weight polystyrene, Karat® Colored Teaspoons are available in seven different colors and are as low as $15.25/case. Compliment your Karat® Colored Teaspoons with Karat® Paper Food Containers! As low as $59/case and available in five different colors with sizes ranging from 4oz to 32oz, these containers are a simple addition with a big impact.
For more information, please visit http://www.cupdepot.com.
About CupDepot.com
CupDepot.com is headquartered in City of Industry, California and is widely known as a wholesale of premium paper and plastics for the restaurant and foodservice industry. For more information, please visit CupDepot.com. Karat® Earth is a subsidiary line of Karat®, a manufacturer of affordable premium paper and plastics.
###
If you'd like more information about this topic, or to schedule an interview with Alan, please call Michelle Lam at (626) 965-8882 ext 134 or e-mail Michelle at michelle.lam(at)lollicup(dot)com