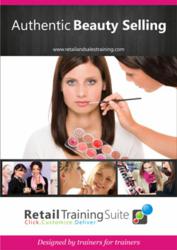 Beauty selling requires specialized skills that most sales courses don't teach.
(PRWEB) April 04, 2013
Beauty selling is challenging; it requires a great deal of skill, knowledge and perseverance. Furthermore, as competition in the beauty industry increases, it's becoming harder and harder to maintain, let alone exceed, sales targets. Finally, there is a sales package that empowers and enables beauty sellers to reach their full potential.
Many cosmeticians and beauty therapists enter the beauty industry because they love the product, but leave because they struggle to sell it. The pressure to achieve sales targets is huge and support is often lacking. What's more, many managers of beauty staff have never sold so much as a lipstick before, and so they can't provide practical tips and techniques to help them succeed. What they need is a sales program that focuses on the precise skills and behaviors of exceptional beauty sellers.
Recognizing this, Authentic Training have developed a sales program specifically for selling beauty products. It's ideal for managers, as it helps them to understand the unique activities that drive sales in beauty, such as running events on counter, effective file card management and so on. That way, they can coach more effectively by providing practical solutions to help beauty consultants overcome challenges and achieve greater sales. It's perfect for beauty sellers, as it's captured the secrets of millionaire beauty consultants, providing all the skills, tips and techniques to enable them to sell successfully.
Company founder Melissa Davies says "beauty selling requires specialized skills that most sales courses don't teach. You can't send a beauty consultant to just any selling course and expect an uplift in sales. Because the skills for selling beauty products are so different, beauty sellers need a tailored training solution specific to their industry."
Authentic Training has developed a beauty selling skills course to help beauty managers and beauty sellers achieve sales targets. In a 'done for you' format, it's easy and fun to deliver. Best of all, it contains the very best beauty selling tips from around the world which means beauty counters, spa's, salons and stores – regardless of their budget, can deliver a world class training solution themselves. For a free guide on the secrets of selling beauty products, visit their website.
Further information:
Melissa Davies, Company Founder
Authentic Training
http://www.retailandsalestraining.com