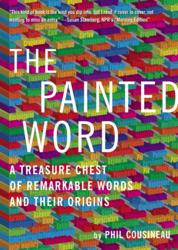 This historic collaboration shines with fresh insights into both language and art."

— Alexander Eliot

(PRWEB) April 01, 2013
Phil Cousineau's The Painted Word, a unique reference book filled with weird and wonderful words, is now an audio book. Listeners can now aurally learn about the origins of words both old and new, archaic and modern.
The logophile and mythologist also hosts "Global Spirit," a critically-acclaimed PBS program that explores the intersection of ancient spiritual wisdom and modern scientific knowledge. Cousineau interviews a wide range of experts and spiritual leaders from around the world on this "internal travel" series. The host also appeared recently on New Dimensions to share his love of "magical, combustible words."
Join Phil for "shenaniganery of the highest brow" as he hosts a special Word/Play event at The Booksmith in San Francisco on May 7.
The Painted Word
By exploring the delightful backstories of the 250 words in The Painted Word, readers will be lured in by info from the luminous to the numinous. Author Phil Cousineau takes us on a tour into the obscure territory of word origins with great erudition and endearing curiosity. To untangle the knot of interlocking meanings of these painted words, logophile and mythologist Phil Cousineau begins each fascinating word entry with his own brief definition. He then fills it in with a tint of etymology and a smattering of quotes that show how the word is used, ending with a list of companion words. The words themselves range from commonplace—like biscuit, a twice-baked cake for Roman soldiers—to loanwords including "chaparral," from the Basque shepherds who came to the American West; words from myths, such as "hector;" metamorphosis words, like "silly," which evolved from "holy" to "goofy" in a mere thousand years; and words well worthy of revival, such as "carrytale," a wandering storyteller. Whether old-fangled or brand new, all the words included in The Painted Word reveal the deep history and mystery of words and language.
Phil Cousineau is an award-winning writer and filmmaker, teacher and editor, independent scholar and travel leader, storyteller and TV host. Currently the host of PBS's "Global Spirit" television series, Cousineau has published 26 nonfiction books and has 1For the past 25 years he has enjoyed his life-long dream of being a full-time freelance writer, filmmaker and sports coach. Find out more at http://www.philcousineau.net.