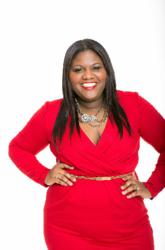 After helping hundreds of singles on their quest for love, Jasmine Diaz has rare insight on discovering lasting love...

Charreah K. Jackson, ESSENCE magazine Relationships Editor
Los Angeles, California (PRWEB) April 02, 2013
Excuses are one of the most common reasons why single professionals fail to find love, says one relationship expert.
Jasmine Diaz, author of the new relationship book, Dating like a Superhero: The Single Professionals Guide to Saving Your Love Life, says singles often blame their singlehood on their profession. "You just have to outline your priorities and be willing to put in the work. Stop the excuses, expand your boundaries and commit time to finding 'the one.'"
Diaz has been matching single professionals for over a decade. Her skills and experience have made her a much sought-after expert for affluent African-American singles, but like many, she believes love knows no boundaries. "I didn't write this book for one particular group. The tips I provide come from years of professional and personal experience, and they apply to every type of professional; from the High-Profile to the Regular Joe. You too can star in your own superhero flick and all it will cost you is time."
The best kept secrets this matchmaker has to share with prospective daters come down to four main points:

Know what kind of superhero you are: Your relationship requirements differ based on your profession
Understand why you are still single: In order to know where you are going, you need to understand where (and why) you have been
Save yourself: Use professional tools to build personal relationships
Balance your life: Prioritize your life in order to obtain personal-professional success
For more information about Jasmine Diaz, visit http://www.shawnmackenzi.com. Dating like a Superhero is now available online for pre-order at Amazon.com, BarnesandNoble.com and http://www.DatingLikeASuperhero.com. On April 23, 2013 Dating like a Superhero will be available nationwide in Barnes and Noble and independent bookstores.
About the Author
African-American relationship expert, author and celebrity matchmaker, Jasmine Diaz, has been making love connections for over 10 years; matching single celebrities, athletes and business professionals from across the United States through her successful matchmaking firm, the Shawn Mackenzi Agency. She has been featured in many publications including Essence Magazine, Ebony, Jet Magazine, and Sister 2 Sister, and has made appearances on LisaRaye: The Real McCoy (TV1), Need Love Will Travel (Comcast/NBCUniversal), and The Big Girls Club (VH1- Pilot) to name a few. Jasmine also serves as television casting consultant for several network dating shows.