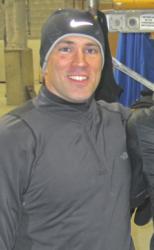 The greatest thing for me is having an opportunity to help people realize and achieve their goals.
Chicago, IL. (PRWEB) April 02, 2013
Within the next month Black Tiger Performance (http://www.blacktigerperformance.com) is set to open its doors and set a new standard for athletic performance and fitness in the City of Chicago. Holding a key role in forging this new standard is Neil Curran, Psy D. CSCS; one of three owners behind the new 12,000 square foot West Loop facility. The Other two owners include Geoffrey Ruttenberg and Holly Palin.
"The opportunity to integrate my three vocational passions; exercise science, psychology and coaching into our exercise programming and coaching philosophy under one roof at our new facility is a dream come true for me," Curran stated. Curran brings to Black Tiger Performance a doctorate in clinical psychology with a specialization in sport and exercise science as well as experience from working with a variety of athletes and institutions. He has been a certified personal trainer (NASM, NSCA-CPT and CSCS) for over 15 years and holds a Master's degree in physiology and neuroscience as well. Outside of playing Division 1 NCAA soccer for Valparaiso University Neil is an accredited soccer coach (USSF "B", NSCAA Advanced National) and is the head varsity soccer coach for both the boys' and girls' teams at the Francis W. Parker School. During his ten-year tenure, no coach in school history has been as successful.
According to Curran, "The greatest thing for me is having an opportunity to help people realize and achieve their goals. Whether those goals are health and wellness based for someone who hasn't exercised regularly for years and wants to get back in shape or forging an elite athlete, it is an incredibly rewarding experience for me and is a driving force behind my passion for what I do."
Black Tiger Performance's mission is to be the best performance center in the country by merging the essential elements from conditioning, athletics, fitness, injury recovery and sports psychology in an effort to ensure the clients achieve their aspirations. In doing so, Black Tiger Performance recognizes that individuals have different needs, different fears, different limitations and a variety of strength and body composition, yet nonetheless fundamental core strategies are specifically generated to help them find their own strength to power through these limitations.
"To have a partner like Curran, with all of his experience and education is a tremendous asset and comfort," proclaimed Ruttenberg. "Gets no better than Neil," added Palin.